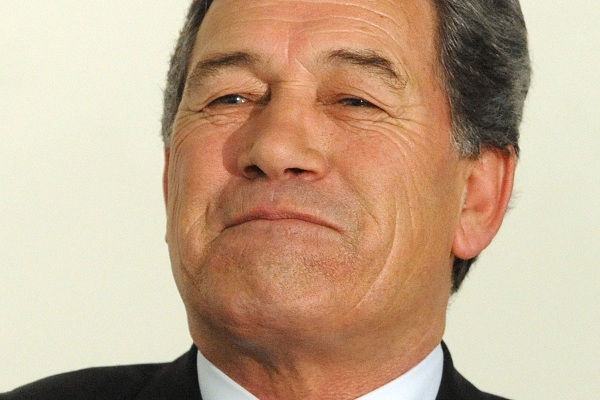 The Master Puppeteer Winston Peters has gullible Pakeha Kiwi dancing to his fiddle again.
Supportive posts of his latest antics are flowing into my Facebook news feed.
Winston Peters has always been a populist politician … Its always about the math.
Never allowing his politics to be scuttled by un-popular moral principle… yet always opportunistic to suiting up his self-interested populism in some pious garb….whenever convenient.
This time he has climb upon his soapbox to Cry outrage at the foundation of an Asian political party…
Read /watch Here> Peters lashes out at 'ethnic-based' People's Party
"The Gaul of these Boat People! We let them in out of the goodness of our hearts… they steal all our jobs, Buy up all our houses"…. they are taking over the Joint!…We should ship them all back to Katmandu!"
No… sorry Winston never said that… *Not exactly that* … yet again that is exactly the sort of mindset he's pandering too… of the sort of people who Idolize him… laugh at his jokes… and keep voting for him.
Yet Lets ask the obvious question… why on earth would Kiwi Indians and Asians ever think they would need such a political Party?
I agree that there can be no legitimacy for Racial parties… that the rise of such phenomena is frightfully regressive, yet when it comes to politics of race… of all people *The hypocrisy* of Winston Peters is staggering!
*He of all New Zealand politicians * has made political Capital by attacking Asian immigration, Asians buying property, Asians driving on our roads, etc etc…. to the degree that His pandering to Xenephobia would be the chief reason he has remained in parliament for so long.
*Given the Racist nature* of New Zealand politics and Media, we should not be surprised that some Kiwi Asians have thought that establishing their own Political party to champion their own interests is a smart idea.
So Winston truly is a scoundrel… and New Zealanders who buy into his Posturing are as thick as two short planks… allowing such a Charlatan to play them so easily… lapping up his Bullshit…. never holding him to account for his own despicable politics…. because he's smart enough to *pander to the despicable and ignorant opinions of the Sheepish Kiwis.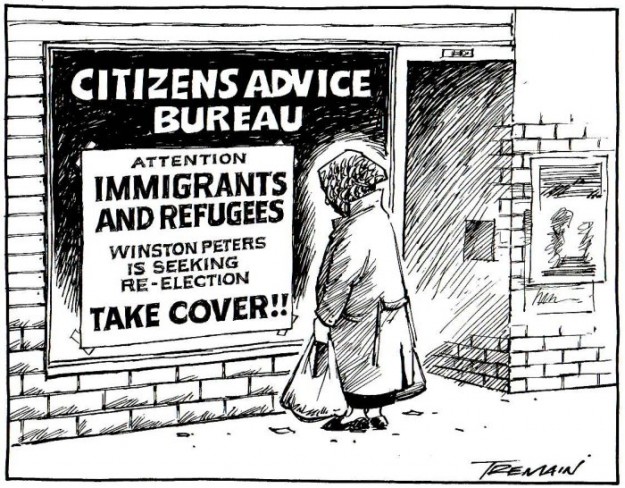 This is the Political environment Shameful Politicians of division have created… and Winston Peters Ranks Right up there with Tariana Turia, and The rest of the Racist Maori politicians.
Whereas The Maori radicals have made political capital out of stiring up Maori grievance and victimism, Winston Peters has not simply Capitalized off the Pakeha Backlash… which is legitimate, he has pandered to a deeply rooted Xenephobia towards Migrants, and Asian migrants in particular…. the sort of small minded, easily spooked paranoia that lurks within almost every population… and is a 'sure bet'… for Populist politicains the world over…. the most famous of these currently being the Republican party candidate for US President Donald Trump.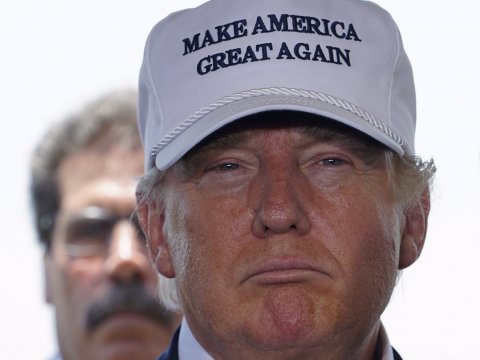 Ever wonder why Western Civilisation is a sinking ship?
Trumps Campaign has been propelled forward by tapping into the very same *Bigoted* and Paranoia driven mindset lurking within so many Americans…. and it is these sorts of Popular phobias and prejudices that make Democracy a frighteningly Barbarous and Backward means of choosing Political leadership, and granting them the powers that they may wield.
It is because Democracy tends to be driven by mass hysteria rather than 'Mass wisdom' that an Enlightened Constitution is essential… to enshrine *The Rule of Law*… Principles of Justice… and limits to Government power… to Keep Populist Politicians in check and prevent them from enacting Laws that dont embody the principle of Equality for all regardless of Race, sex, etc.
It is only when a nation has no such Constitutional Defense, That Politicians like Trump and Winston Peters think they can win votes by making Statements that patently single out ethic groups to be politically suppressed and legally dis-advantaged.
So despite what so many Pakeha think about Winston Peters being 'a great man of principle because he vocally condemns special treatment for Maori… in reality *He is exactly the same sort of Politician as the Racist Maori radicals*… when it comes to Asian ethnicties…
Yet of course they turn a blind eye to this… because Winston is pandering *To their personal anti-asian sentiments.
This is what really pisses me off the most about so many people in the 'One Law for all' movement… In reality the only evil they are fighting is the Waitangi racism that directly disadvantages themselves…. in the next breath they are quite happy to forget all about racial equality and freedom… and to support politicians who peddle Racist politics against a demographic they personally fear and disdain.
So underneath their pious calls for One law for all… there still lurks a petty mind driven wholly by self-interest… the use of the Principle of Equality is little more than a convenient tool to get their own way… Tragic.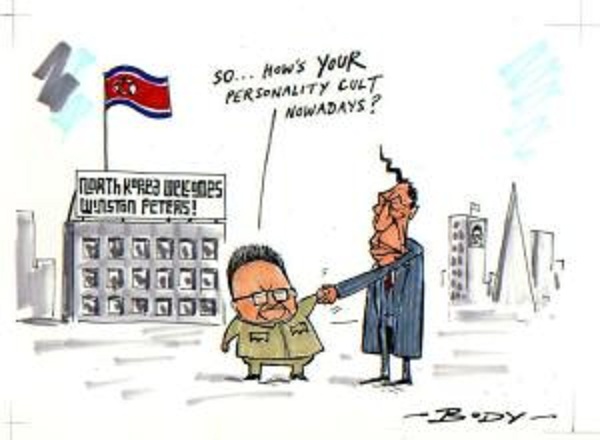 The American Constitution is Battered and Crumbling… their population has become virtually lobotomized as to what their constitution represents, why It says the things it does, and how it is being subverted…
Without an Ironclad constitution Democratic Government is not *Lex Rex*….The Rule of Law…. but the opposite…. completely arbitrary… the rule of whim… and its that whim that is the play thing of populist politicians… (many like Peters and Dunne vocally express their contempt for 'Ideology baced politics.)
This Millenia has been called 'The Information Age', yet in reality I think a better term is "The age of Bullshit".
The Law of Compensation appears Ironclad.
On one side of the scale… The Internet, and social media have created an unprecedented freedom of information, and made it almost impossible for Governments and the powers that be to prevent uncomfortable facts for becoming public knowledge… so that one of the greatest aspects of political powers has been how they can keep their secrets secret… punish whistle-blowers, etc… all the while claiming to be 'transparent' and for justice to be seen being done (yet still allowing secret courts, Police to charge private citizens filming them, etc)
Many Believe the Internet is therefore this positive power for the people…
Sadly there is a Natural… ugly… counter-balance… the Law of Compensation…
Because of the internet, and social media there exists today an unprecedented means for Mass Bullshit, paranoia mongering, and herding the Sheeple…. Burring the truth under mountains of lies…. mis-directing the gaze of the population away from issues of great magnitude.. towards petty disputes and follies.
And The shear Volumes of Miss-information, lies, and Chaos renders the Internet just as much a tool for control of the masses as a tool for liberation.
The internet and social media *Expose the Pettiness and Mass delusions* of humanity… the shared ignorance and commonly held evils that lurk within the minds of men… of various societies… that have been cultivated, manipulated, and capitalised upon by the likes of Trump and Winston Peters.
Standing against the Politics of Race, as A Libertarian not only have I actively opposed Waitangi Treaty separatism, Special Indigenous Rights and Seats in Government for Maori, I have also campaigned of a New Constitution that outlaws Racist political institutions and Laws, and Guarantees equal rights and liberties for all.
When standing for Council, I have attended Election Meeting organised by Asian community groups and when asked about then having representatives in Council to promote their interests, Often I was the only candidate who stood up and said that as a Libertarian I would listen to the Asian communities concerns and applications with the same care as to any other sector of the community… and that I believed my position was the *minimum standard* and principle that All politicians ought to adhere to… and that the notion that various ethnicities need to have *Race based Representation* to get justice… was a very sorry situation.
*It is true* that many Indian/Asian migrants working in Convenience stores, Liquor outlets, and Gas stations have born a greater share than most of New Zealands rising violent crimes… and that successive governments have not merely turned a blind eye towards their plight… but have systematically made things much worse… in so many ways.
Not only have theses Businessmen and workers been left easy prey… denied their right to keep defensive weapons available to protect themselves from violent dangerous criminal determined to Rob them… Rapacious Tax Greedy Nanny State Social policies have caused the value of Cigarettes, and Alcohol, Fuel.. to sky rocket… making them a valuable contraband on the black market… and also making the Cash registers of these businesses much more attractive to Criminals.
As a Libertarian I directly campaigned advocating the right of Dairy, Liquor store, and Gas station owners and operators to have the means of self defense at hand, and also Spoke out against the Rapacious taxation.
If we had a Libertarain constitution and form of Government, It would be clear to Asians New Zealanders that they were at no political disadvantage… not an alien population… but Fully enfranchised and enjoy Full Liberty, and protection of the Law… to raise their families… to work for their own prosperity… and pursue their own happiness.
Tim Wikiriwhi
Christian Libertarian.
Read > Tim Wikiriwhi's Submission to the New Zealand Government's Constitutional Review. 2013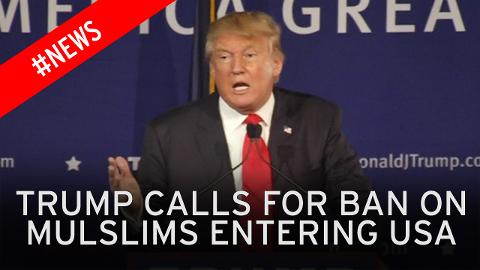 Postscript:
Politicians are Famous fabulous Liars and feigners… along with Lawyers, Insurance salesmen, and Used car dealers.
That Lies and falsehoods exist in reality is not something any sane person would deny.
Science tell us the Universe had a beginning… and so logic demands that there has been a finite amount of time from that beginning, and that at some point backwards… some one…. some being *Told the first lie*.
Someone invented Lying.
The Bible says this first 'Father of Lies' was Lucifer/ Satan.
The Bible also says that using lies Satan deceived Mankind and convinced man to sin/ rebel against God Almighty… and that is where all our troubles as a species began.
Jesus calls the Lost 'Children of Darkness'… Children of the Devil…
"Ye are of your father the devil, and the lusts of your father ye will do. He was a murderer from the beginning, and abode not in the truth, because there is no truth in him. When he speaketh a lie, he speaketh of his own: for he is a liar, and the father of it."
John8;44
The Internet… and this 'Age of Bullshit'… proves just how True the Bible is.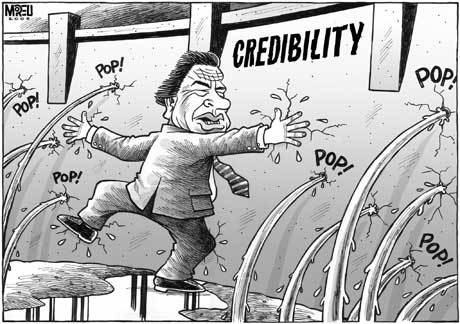 And How Naive to view such Politician like Peters and Trumps as Saviors of Humanity!
They wear a cloack of Righteousness, yet are ministers of Satan… playing the Devils game… with that Hapless legions of lost souls… of the Children of the Damned.
Satan Laughing spreads his wings.
The Gospel of Democracy is False.
That is the moral of this story.
Jesus said "Broad is the way that leadeth to Damnation and many there be thereon. Narrow is the way that leads to life and Few there be that find it"…. so… according to scripture… *Following the many* is not a wise principle… it certainly is not a valid moral justification for Law.