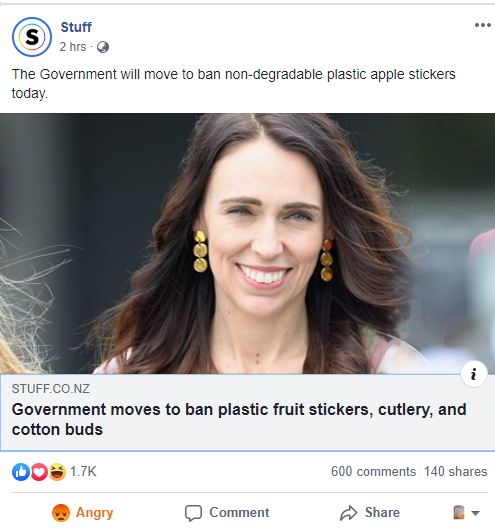 Tyranny!
"The Government will move to ban non-compostible fruit stickers today in response to a huge new report about single-use plastic, Stuff understands.
It's understood the Government will also move to ban plastic cotton buds and single-use plastic cutlery, items which both have biodegradable alternatives made out of bamboo.
Compostible apple stickers do exist but are not in wide-use.
The announcement will be made on Sunday morning as part of a response to report from the Prime Minister's chief scientist, alongside a host of other measures…"
Read more here.
*******
My Commentary…
Here we go… more Ardern Messianic Socialism in the name of saving us (and the planet) from our own stupidity and inability to make our own adult choices.
People are so stupid as to swallow just about any excuse to attack freedom 'Tuff on Gangs' … 'Saving the environment'… and they simply dont care about the innocent people who get stomped on in the process as long as its not themselves…. these fools dont understand that this Political corruption is in fact destroying our country….and that they are paying the price in a thousand different ways as our nation asphyxiates itself.
This will cause undeserved pain to some workers and businesses, and will drive up costs because if there were economic advantages in the bamboo versions the market would have naturally gravitated towards them without Miss Dictators Edict.
One step at a time our Nation is sinking under dictatorship.
Like Frogs in a pot… the heat is imperceptibly being turned up… yet the frogs just sit their enjoying the warmth…until they are boiled to death.
Many are actually applauding their own enslavement.
What is especially vile about this is that our population and businesses could have been persuaded to voluntarily make these 'sacrifices' and supposed 'ethical decisions' had the will been there to have our society one of Reason as opposed to one of Nanny State Tyranny… yet the politics and ethics of freedom are despised by Socialists like Ardern… who *always* resorts to Legal coercion to achieve her aims.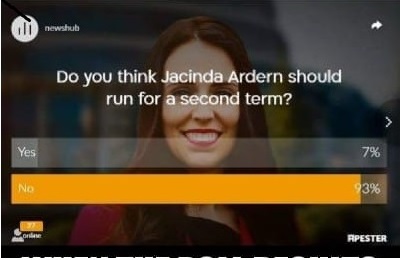 Yet hopefully she will be gone next election… not that National are any better…. Both Bridges and Collins are *Fascists* when it comes to the Police!
We can tell from their recent public announcements that they would love to set up special 'Strike-force Raptor Units' to harass Gangs, when in reality These Units *Harass everyone* … and represent a massive descent from Freedom into tyranny.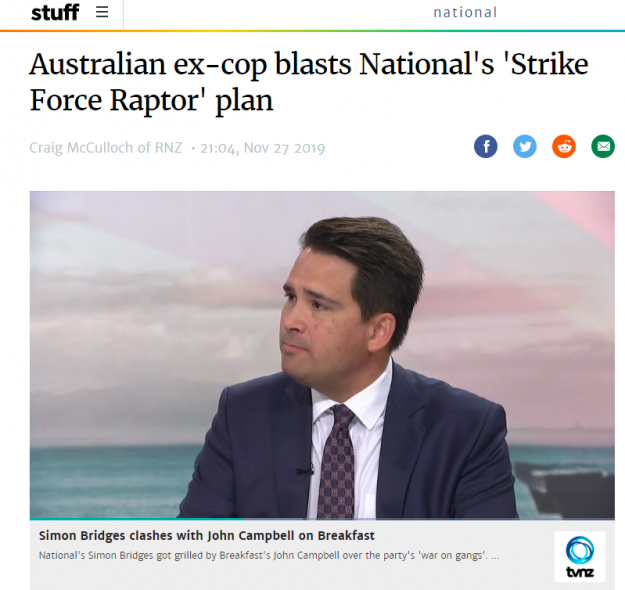 These facts are seen with the shameful behavior of the Police in Australia…. The attitude of these Units and how they conduct themselves towards the public is outrageous! as can be seen by many Social media posts via Citizens filming their shameful bullying and escalation of the most trivial matters into serious situations whereby the Police are the main instigators… as if Courts are not already overloaded… these Fascist Units create violent situations out of thin air.
Just the facts…..
"The opposition party yesterday proposed setting up an elite police squad – modelled on Strike Force Raptor in New South Wales – with the sole purpose of crushing gangs.
National leader Simon Bridges repeatedly described the unit as "devastatingly effective" and referenced media reports which claimed it was driving outlaw bikies into extinction.
But former NSW detective Mike Kennedy told RNZ that was "nonsense" and Bridges was "living a dream" if he believed that.
"He needs to pull his head out of whatever it's stuck in because … [gangs] exist. They're always going to exist. They just go underground.
"I'm not a bleeding heart liberal," he said. "But [the zero-tolerance strategy has] just been a disaster."
Read: Australian ex-cop blasts National's 'Strike Force Raptor' plan
Read: Australian criminologist says Strike Force Raptor didn't reduce gang numbers
The MPs of both Labour and National just dont get *the value of freedom*…. they just dont get it that a Free society tolerates the broadest range of personal choice and association and that the Laws should not destroy Freedom simply to make the Police's job 'easier'…. at the expense of the citizens rights!
The Laws are sufficient and the Police have ample powers to arrest *real criminals* without the Evil of making *wearing certain garb (Gang patches)* a crime.
The principles of Freedom of choice and association are too precious to allow the Police to arbitrarily outlaw whatever they like…. yet the sheeple are too ignorant of what is at stake to care… and that is why New Zealand is sinking into a Police State….
And with every 'Edict'… our economy takes a hit and imperceptibly our entire quality of life is being eroded…
Then these same Politicians say… "why is homelessness and suicides increasing???"… why are children going to school without lunches? Why is everyone struggling to keep their heads above water?
We must need more Nanny State!
More Taxes!
And this is the sad world we will be leaving to our children and Grand children!
Having such Ideologically Corrupt politicians both in power *and* in Opposition has been a gigantic disaster for our country that has nosedived into regressive Dictatorship… Ardern facing Zero resistance from the Main opposition party for her heavy handed policies… So in practical terms National have been in Cahoots with Labour and are effectively no less culpable for what has been afoot under Ardern's Regime.
So Wake up!
Dont vote Labour or National!
Vote either Act or New Conservative!
Its time for New Zealand to have a better caliber of Parliament…. More respectful of Freedom, and our rights… and esp one that is not systematically selling us out the the UN.
Tim Wikiriwhi
Christian Libertarian.
More from Tim ….
'SINGLE USE' SHOPPING BAGS! HOW SOCIALISM TURNS VIRTUE INTO VICE.
NAZI THUGS JUST OVER THE DITCH! AUSTRALIAN POLICE STATE WELL ADVANCED… NEW ZEALAND BIKERS BEWARE!