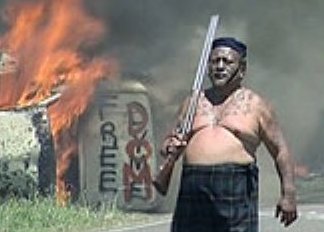 Sometime soon I hope to write a substantial piece on the deteriorating State of New Zealand Justice and Race relations as there is much that needs to be said, yet tonight I must satisfy myself with a few words in respect to the Tuhoe terrorist Court case that is winding up in particular the barefaced delusions of the Defence which are claiming Tama Iti may be compared to Nelson Mandela!!! Thats like calling a circle a square!
http://www.3news.co.nz/Urewera-defence-likens-Tama-Iti-to-Nelson-Mandela/tabid/423/articleID/246412/Default.aspx
Now From what I remember Black south Africans Were suffering as an oppressed Ethnicity, not as a favoured one as Maori are today… and Mandela was trying to End an Apartheid system, not Perpetuate one! Yes Mandela fought for Equality before the Law…and an end to separatism, the very opposite of what Iti was doing…. planning to Murder white people.
The defence say Iti is a 'peace activist'… and his fellow Co conspirator Green Extremists "Were immersed in the peaceful teachings of Parahaka"… I await the verdict with interest because if such blatant lies succeed in an acquittal, or a trifling sentence we shall know that There is no Justice in this country. In my view they all deserve at least Ten years Jail.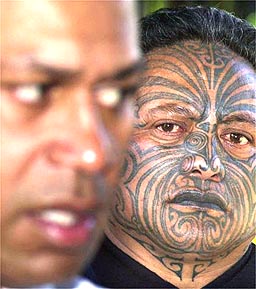 A better comparison of Tama Iti would Be the violent murderer radical Separatist …Fijis George Speight! (Whom when in the midst of his Coup for Indigenous Rule, Iti took the trouble of flying to Fiji to support!)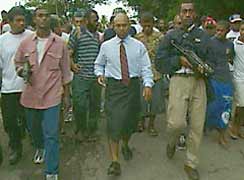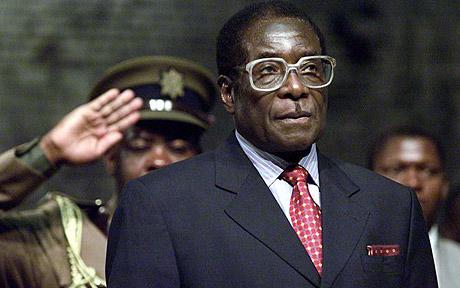 I personally liken Iti To Mugabe! Another Rabid violent Racist, whose policies Iti has endorsed many times.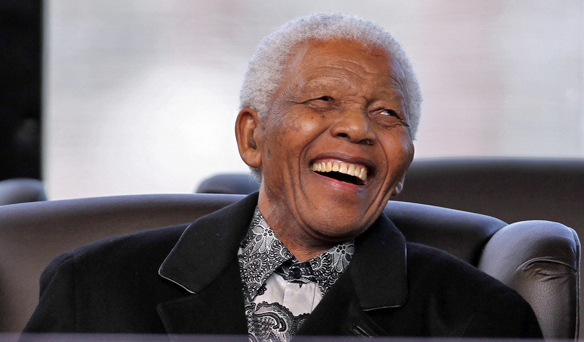 Mandela's words, "The struggle is my life," are not to be taken lightly.
"I have fought against white domination, and I have fought against black domination. I have cherished the ideal of a democratic and free society in which all persons live together in harmony and with equal opportunities. It is an ideal which I hope to live for and to achieve. But if needs be, it is an ideal for which I am prepared to die".
Iti Ought to be starkly contrasted with Mandela, and Martin Luther King whom Richard has Blogged just this week…
http://blog.eternalvigilance.me/2012/03/the-negro-is-your-brother/
Tim Wikiriwhi Christian Libertarian.