Mitch Lucker, vocalist for Suicide Silence, died yesterday.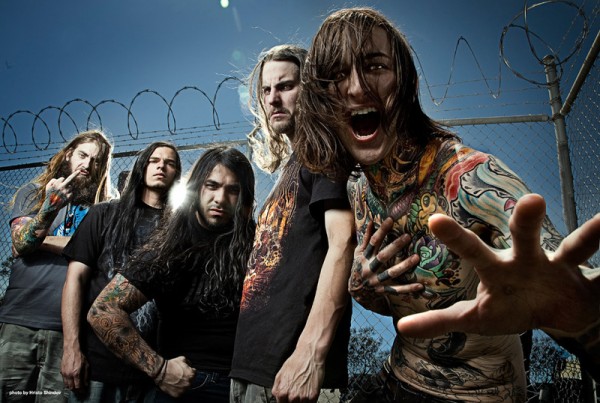 Mitch was a heavy metal dad.
Some things in life are happy accidents. Like the fact that Suicide Silence vocalist Mitch Lucker is releasing his band's second album, 'No Time to Bleed,' on June 30, the same day his daughter turns two. When he's not touring, the 24-year-old Lucker is a full time dad. "I go from two extremes," Lucker told Noisecreep. "From being full-time on tour for three months straights to flying home and being at her beck and call until I go to bed! That's also my job. They're both me. I wouldn't have it any other way!"

Being his daughter's primary caregiver presents a conundrum for Lucker and that's leaving her for brief spurts to tour the country. "It's the hardest thing I deal with, but what I'm doing is the reason we have a roof over our heads and that I can take care of her. I hate being gone, but my family couldn't survive without me going on tour. Tons of fathers out there don't want to wake up and go to work, but they have to, in order provide. I don't consider Suicide Silence work. I just tell her, 'Daddy is going to leave and go play music now!'" Lucker makes the separation bearable through technology like Skype and his cell phone, saying, "It's cool to be able to be elsewhere and hear her."

Lucker's daughter is probably the youngest attendee at Suicide Silence shows, too. "We put the decibel-eliminating headphones on her and she is super entertained." Her first show wasn't Suicide Silence, though; it was Circa Survive's Anthony Green on a solo tour. "The bus dropped me off at the end of the Mayhem tour and that night, I took her to the show. She sat her on my shoulders. As long as there are lights, movement and music, that girl is happy. She saw me performing, telling the crowd to jump up and put their hands in air. I looked over at her in the corner on stage and she was jumping up and down and dancing, too!" And with that, Lucker pulls the phone from his mouth and says, "Hi, baby. Don't tell mommy 'no.' You have to take your vitamins." He comes back to the interview conversation, saying, "She's gotta take her vitamins, you know?"
You only get one shot. Why'd you have to disengage, Mitch? A question that will remain unanswered.
One thing's for sure, though. Alcohol and motorcycles don't mix.
He's an alcoholic, and it's a been a big battle. And I tried to stop him. I was in front of him begging him not to leave the house. Begging him. Like, 'Just seriously, for us, don't leave.' And he did. And this is what happened. I mean, It's a wake-up call. He's an amazing man. He's a wonderful father and a great husband. And now he's gonna miss out on watching [his five-year-old daughter] Kena grow, because he decided to drink and ride. Just don't. Just think before you guys do something stupid. Please learn from this. Please.