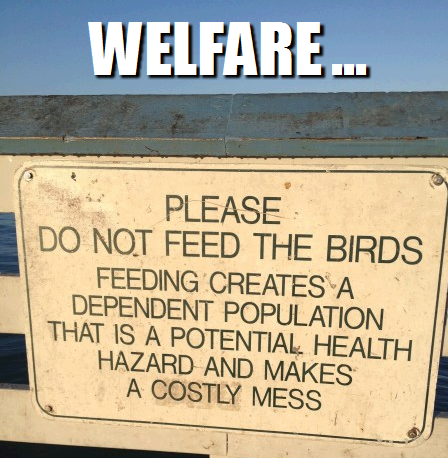 Behold the fowls of the air beneficiaries of welfare: for they sow not, neither do they reap, nor gather into barns; yet your heavenly Father welfare State feedeth them. Are ye not much better than they? (KJV)
Now, if I meant to sound particularly harsh, I'd add that
if any would not work, neither should he eat. (KJV)
But that was the instruction of the Apostle Paul to his brothers and sisters in Christ in the church of the Thessalonians. Whereas, the bread of life himself explicitly instructed us to give food to the hungry and also remarked that the poor we will always have with us. So, no excuses!
What about welfare state? The welfare state is the biggest excuse around for not giving food to the hungry! "It's not my job, I pay my taxes, no one starves in New Zealand, we have government welfare handouts to which everyone is entitled in times of need …" No doubt, you've heard it all before.
Real Christian charitable giving has nothing to do with paying taxes to fund a welfare state. In his post on Real voluntary private Charity vs the evils of welfare and Political force my co-blogger Tim makes this point exceptionally well. I have little to add.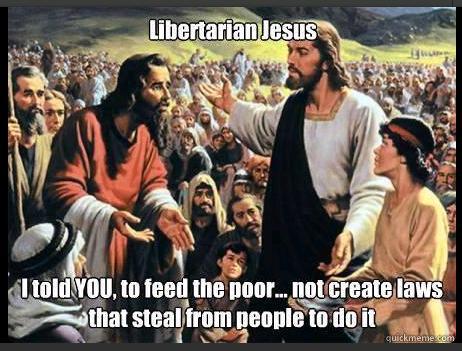 But I will say this much. It seems to me that the Bible implicitly instructs us not to fund the welfare state. Jesus famously told us to "render to Caesar [i.e., unto the government] the things that are Caesar's." (KJV) Does that mean that, to follow our Lord's instruction, we should gladly pay our taxes? No, not at all! 'Render' means to give back. Give back to the government that which already belongs to the government. But what is that which already belongs to the government? Your hard-earned dollars? No, I don't think so. I think your hard-earned dollars belong to you. And you must not give them under compulsion.
The Apostle Paul wrote
Each one must give as he has decided in his heart, not reluctantly or under compulsion, for God loves a cheerful giver. (ESV)
We are to give generously, not grudgingly. Any gift of ours is to be given
as a willing gift, not as an exaction. (ESV)
Furthermore, the Apostle Peter wrote
I exhort the elders among you, as a fellow elder and a witness of the sufferings of Christ, as well as a partaker in the glory that is going to be revealed: shepherd the flock of God that is among you, exercising oversight, not under compulsion, but willingly, as God would have you; not for shameful gain, but eagerly; not domineering over those in your charge, but being examples to the flock. (ESV)
We are to look after the sheeple not under compulsion, but willingly. And we are not to domineer over those in our charge. This brings me to a further and final point.
We are not to exact. Instead, we are to act. As examples.
Do not treat the poor and needy like trained circus seals! Do not seek to make welfare beneficiaries jump through hoops. Freely scatter your gifts to the poor! Dignity for dignity. (NIV)
Don't be a Carol Gaither!