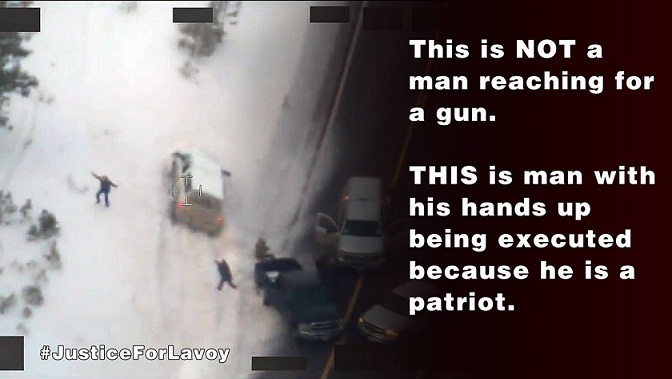 Gavin Seim for Liberty
" Mainstream Media is lying like crazy. But the facts show clearly LaVoy was murdered. He was shot while his hands were still in the air.
Let's make sure the world knows it. — Gav "

Published on 28 Jan 2016
This is the complete video footage of a joint FBI and Oregon State Police traffic stop and OSP officer-involved shooting of Robert "LaVoy" Finicum on the Malheur National Wildlife Refuge. This footage, which has only been edited to blur out aircraft information, was taken by the FBI on 01/26/2016 and released by the FBI on 01/28/2016. Note regarding date/time stamp in the left corner of video: Pilots use Zulu
******************************************************
Vanessa Mathews says… Check this out.
"Friends, don't take the bait. The bait is this video with no sound. Closer video and/or sound would reveal he was hit with their bullets several times before he dropped his hands.
Also, observation from Jeremiah Dearinger:
Also, I found the spot in the video where they shot at them and caused them to speed away. It's at 8:11. You will see the drone footage brighten momentarily (split second) and you see smoke. It's a gun shot. And you immediately see the brake light on the truck go off and they start driving."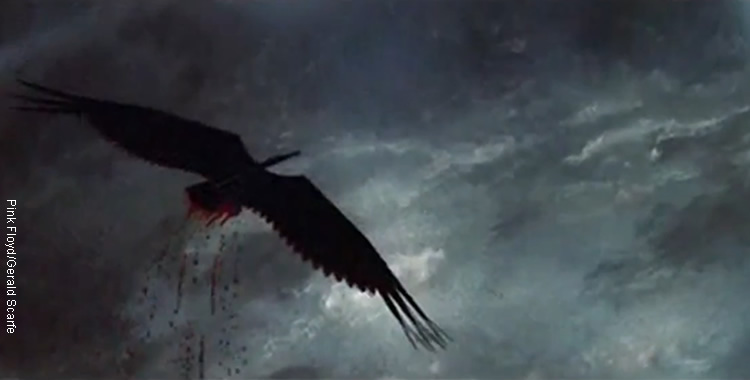 My thoughts….Obviously after complying to the flashing lights on the police vehicals, and pulling over… Lavoy hits the gas pedal *when the Police open fire on them! … that is the best explanation.
I think this was all planned… and filmed to make it look like they were resisting arrest.
Then Driving in fear for their lives they met the second road block… which was set up expressly for the purpose of an execution…. they already had gunmen in the trees.
Having stopped the vehicle Lavoy jumped out of the truck with raised hands attempting to surrender.
It is ridiculous to think he was foolish enough to try and shoot his way out of that situation!
This is clear from the video.
He only drops his hands and goes for his gun *after* they have opened fire on him… murdering him in cold blood.
No doubt the Police and FBI had been pep talked into thinking and treating these guys as 'Terrorists'.
And now they have murdered a Righteous defender of the constitution… and are waiting to see if they have gotten away with it.
Only the American people themselves can rise up at this outrage and show the evil government the consequences of their tyranny.
This is what the second amendment is all about.
Tim Wikiriwhi
Libertarian Christian Independent.
New Zealand.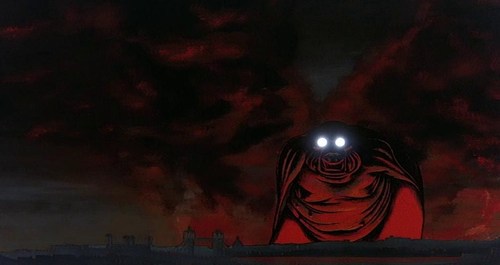 More From Tim… >>> Bad Moon Rising: The Murder Lavoy Finicum.
Update: 30-1-16 NZ time.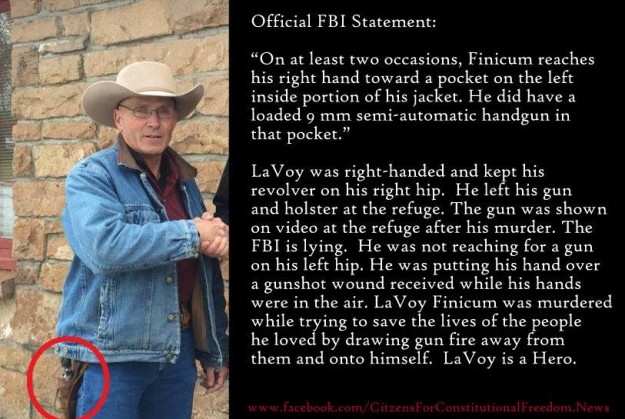 Citizens for Constitutional Freedom Support Group
Like This Page · 10 hrs · Edited ·
The FBI says that LaVoy reached twice for a 9mm gun inside his jacket on the left hip area. However, LaVoy carried a revolver on his right hip in a holster. The video shows that LaVoy's jacket was closed at the time he was shot. Why would a right-handed man who carries a revolver openly on his right hip choose to leave his holster behind and instead hide another man's 9mm gun on the inside of a jacket around his left hip? It's as preposterous as the FBI's thoroughly debunked claim that federal agents did not start the fires that burned 80+ men, women and children alive at the Branch Davidian compound in Waco, Texas.
The FBI is lying. LaVoy's vehicle was shot at one time at the first stop when Ryan put his hands and head out the window to speak to the feds. LaVoy's vehicle was shot at several times as he drove away to seek the help and protection from the Grant County Sheriff. LaVoy's windshield was shot from the front by an agent who jumped out in front of the vehicle at the second stop.
LaVoy was transporting an 18 year old girl with him who was visiting with her family to sing gospel music at the town hall they were traveling to. To save her, Shawna and Ryan Bundy, LaVoy jumped out of the vehicle with his hands in the air. He yelled out that if they were going to shoot someone, to shoot him. With his hands in the air, that is exactly what they did.
The first shot struck him on the left side of his body. His body began to buckle and his hands went down to the wound but he was ordered to put his hands back in the air. He tried to do so, but naturally returned his hands back to the wound. He turned and pointed at the vehicle, yelling out that there were women in it. Rushing up behind him, another agent put a laser pointer on LaVoy and shot him in the face. He was still moving on the ground when they shot him three more times.
It was cold-blooded murder. And the American people will not forget it. LaVoy is a martyr for the cause of justice and liberty. We will not stop fighting for our freedom. Harney County Oregon is our Bunker Hill. This is only the beginning.
Update 2:
Victoria Sharp Witnesses Lavoy Finicum Being Shot To Death
Give me 46 seconds. — Seeds of liberty will NOT be stopped by Treason. It is past time to love our neighbor and defend liberty! #LibertyRevolution

Posted by Gavin Seim for Liberty on Friday, January 29, 2016