Empty Bullets – From Ruby to Harney

Update on the state of our patriots and liberty. — From a boys last words, to a sacrifice for friends; peaceful families to grizzled bikers. Do not turn away — GavHelp the prisoners: callmegav.com/prisoners#FreeThePatriots #LibertyRevolution

Posted by Gavin Seim for Liberty on Thursday, March 17, 2016
J****e N****n My sheriff was at Ruby Ridge as an FBI agent. He is NOT a constitutional sheriff. Ruby Ridge had special rules of engagement: Kill any adult male, on sight, even if they didn't have weapon. Sound familiar?
Like · Reply · 6 · about an hour ago
Gavin Seim for Liberty
Gavin Seim for Liberty Are you telling me people actually elected one of terrorists from Ruby Ridge as their sheriff.
Like · Reply · 2 · about an hour ago
J****e N****n
J****e N****n That is exactly what I'm saying. San Diego, CA. He was appointed in 2009 when the then sheriff reisgned. He was voted in during the 2010 election and he ran unopposed in 2014. 32 years in the FBI where he ended as assistant director. He was SAC in the Seattle field office.
Like · Reply · 3 · about an hour ago
R**n D***
R**n D*** J****e N****n My God
Like · Reply · 2 · about an hour ago
Read more…. The Coming American Civil War.
And….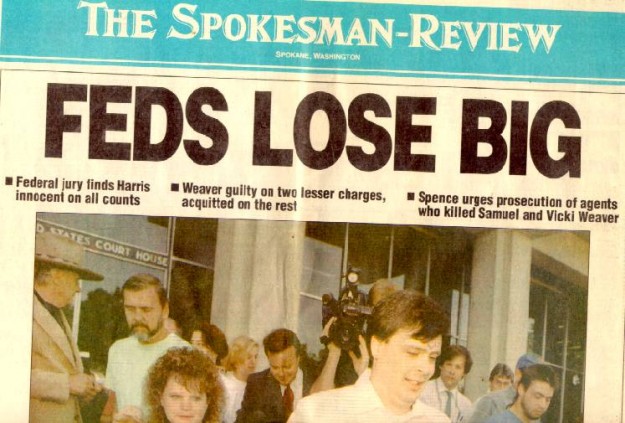 Ruby Ridge 23rd Anniv. of Federal Killings
by Jim on August 21, 2015
Federal killings at Ruby Ridge, Idaho began 23 years ago today. Below are some articles I wrote on this case in 1995. Also included is the counterattack on my Wall Street Journal piece from FBI director Louis Freeh, who claimed that I "grossly mischaracterized" the details of the FBI's killing of Vicki Weaver.
I wonder how much controversy such a killing would excite nowadays. It is amazing how much further government prerogatives have stretched in the past two decades. And it is perhaps even more amazing how much more docile many Americans have become towards unmitigated government BS.
The artwork above is from an article I wrote for the June 1995 issue of Playboy. James Petersen did a great job editing that piece; the artist was Amy Crehore.
Playboy June 1995
HEADLINE: Overkill; the FBI's gun battle with Randy Weaver…. Read on