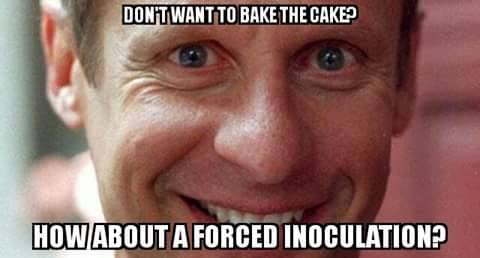 As a New Zealand Libertarian and foreign observer of the US elections, the activities of The US Libertarian Party have been of the greatest personal interest… much more so than the insane rantings of Clinton and Trump.
I watched many of the Libertarian debates between the hopeful candidates, and was a little disappointed… yet not surprised, when Gary Johnson was Victorious.
Though my preferences would have been John Mcaffe, or Austin Peterson because of their superior adherence to Libertarian philosophy (Gary absolutely blew it for me when he said a Jewish Baker should be forced to bake Nazi Cakes)… none the less *On the whole* Gary Still appeared to stand head and shoulders above the competition he faces from the two major party candidates, Trump and Clinton.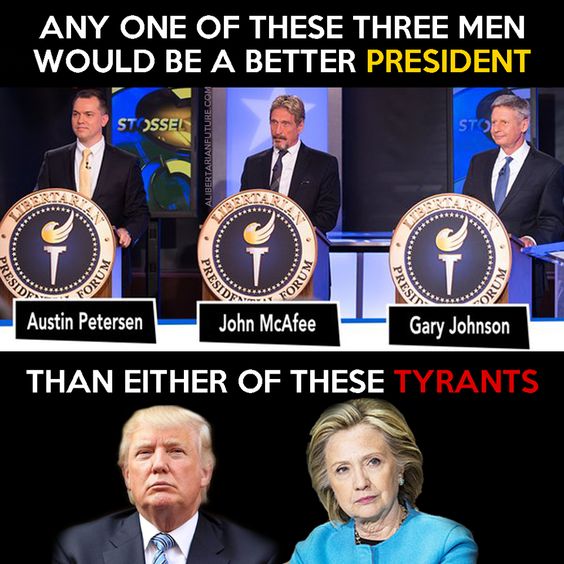 Yet as time passes…and the election gets closer… the high ground is eroding from under his feet…
Most of us already understood that Gary is a seasoned Election strategist… as opposed to an adroit man of principle… and it is chiefly for this reason that he was chosen by the moderate elements to represent the party… while the more principled elements were shaking their heads… some vowing not to endorse the Party choice.
Others like myself were willing to swallow our disappointment… and wash down the unpleasant aftertaste with several stiff drinks… and determine to get in behind Johnson…. for the sake of the Party… and America. (See my post script about how the internet allows foreigners to participate in such elections)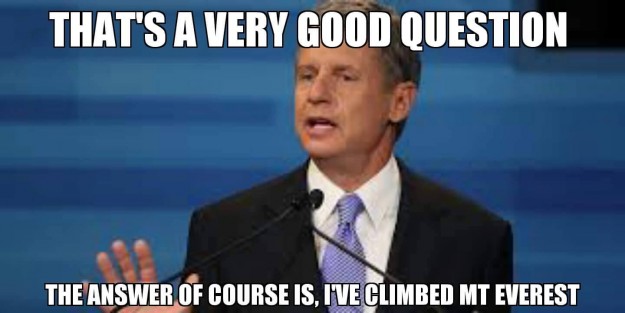 Yet as time passes… we suffer reflux.
What is *almost treachery* is Gary Johnson and side kick William Weld have been busy declaring *More Statist positions*, than he did during the selection process…*And that's dishonest*.
A fundamental issue appears to be getting out of hand.
It is very different for a candidate and Party Representative to *hold personal opinions* about issues… like the legitimacy of Global warming…. quite another to unilaterally *make party policy*…. that contradicts their/our fundamental principles… as Gary has done.
… And I'm not sure why the Libertarians Party has not called him in to lay down a few limits to his Autocratic attitudes.
One would think that being *The Libertarian Party candidate for President* that he would be coming up with *Free market ideas* that people could embrace to satisfy their fears about global warming (whether it is true or not)…. yet he appears to be devoid of such innovative thoughts that embody our fundamental beliefs… that good ideas dont need compulsion… instead he is repairing to the *same Anti-liberty* type ideas as *Carbon taxes*… yet with not very clever sophistry… re-branded this Statist Tax … as a 'Fee'.
Weld has come out stating he would support certain new Gun Restrictions.
So I am calling out The US Libertraians Party Executive and asking why they have not called in Johnson and Weld and laid down a few basic Limits to their Policy commitments and promises.
They ought to be free to express their personal views, yet make it clear that they are such… not party policy, and when suggesting *Any solutions* to problems, they must fall within the scope of *Libertarian principle*… or be considered void… and dishonest by the party.
Johnson and Weld should be expected to make *Retractions* on their remarks about *Carbon Fees*, forced Vaccinations, and *Gun restrictions*… and other statements they have made that are not in conformity with Libertarian fundamentals.
The sooner this is done… the better.
The way things are going a lot of Libertarians are in danger of Vomiting.
Johnson and Weld are beginning to morph into a grotesque Republican/ Democratic party mutation…
It is with concern, yet also a desire to minimize destructive schism that I make this Blog post, and appeal.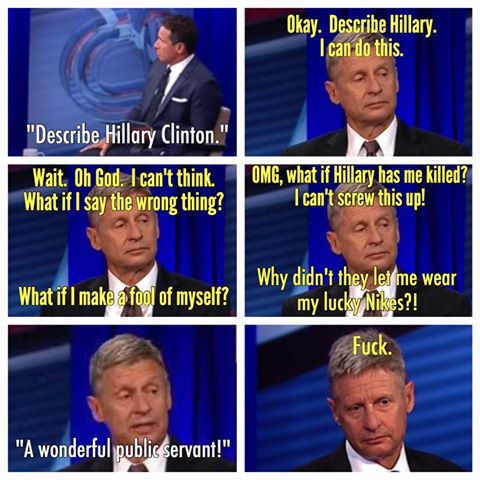 Standing up at Public Rallys Day after day…. and trying not to sound like a stuck record… answering lots of tricky questions… it's easy to put your foot in your mouth…. and very hard to pull it back out again later.
Maybe this pressure has caused Gary to make the odd statement that upon reflection, he regrets?
He should Man up about it.
Plus The Libertarian party must not break down due to in fighting… Gary Needs Full support, yet He must do his part to show himself worthy.
He must not recklessly put Votes ahead of Principle.
He must think smarter… win the support of the people… by smarter, innovative ideas that will work towards the desired end… yet via means that are righteous… in accord with Libertarian Ideals.
Gary!
That you are the Best successful party candidate for president this election is without debate.
You are standing against Two of the most Unfit individuals in History.
You Beat two very worthy principled Men… John Mcaffe, and Austin Peterson.
Dont blow the trust your Libertarian Countrymen have placed in you by continuing to make Policy statements that you know violate Party principles.
*You dont have a mandate to make your personal opinions party policy*
Stop acting like a Dictator.
Start proving you will respect the principles upon which the constitution is founded.
You are Scary Dude… and making a mockery of our cherished ideals.
Tim Wikiriwhi
Christian Libertarian.
New Zealand.
Post script:
It's interesting to me that though I am on the opposite side of the world, and cannot vote in the US elections, that none-the-less via the Internet, I can still play a small part in it all… by critiquing the happenings… and being active in promoting the Libertarian candidate.
This is a relatively new phenomena … a consequence of the world wide web… and you can see why 'The Political powers that be would dearly love to slap censorship onto the net so that they could better manipulate what information is being spread about the elections.
The same may be said of *Legal proceedings*… esp in cases involving *The Government* criminalizing and jailing Citizens for 'Political crimes'… such as is happening *right now* with regards to the Bundy Ranchers, and the Kangaroo court case proceedings with regards to the Oregon stand off.
Not only is the Judge loading the Bases with regards to the Jury, but is also *Banning the court case from being Live streamed*… like some Third-world tyranny… the Evil powers that be seek to *avoid transparency* …. so that they can crucify/ crush their Political adversaries… whom actually have the Law of the land (The constitution) on their side.
The activities of such principled Americans as Gavin Siems appears to be falling on Deaf ears.
The people of America and the Media slumber while the evil powers that be are busy Treading the constitution and the rights, and due process of their greatest Sons…. underfoot.
It appears that "White Christian Cowboys lives dont matter… to America…. because they stand 'outside the Politically correct demographics' that the Liberals have given a monopoly of victimization by the State.
Ie they are not Gay, Not Black, Not Woman,Not Clinton supporters,….
What is happening in Oregon ought to be High on the Libertarian Party candidates list of topics to discuss at every opportunity… at election meetings and in interviews… doing their bit to bust wide open the Dirty dealings that are being done in the dark.
Thus Political criminality will always seek to limit what the world gets to observe… and thereby limit Global criticism and condemnation… so they can more easily feign Legitimacy.
With this in mind I make a conscious effort to broadcast injustices I see happening 'out there' in foreign lands…. for the sake of the Righteous oppressed 'Enemies of the State'… hoping to stir up Global outrage and protest… and make it harder for the Oppressive regimes to hide their evil political activities.
So it seems to me that to the degree that we have access of valid information from Independent sources, The Internet acts the part of 'International observers' … as has become normal in many countries in which fear that democratic processes will be subverted for the sake of Rigging election results, etc.
We outsiders cant vote… but we can use reason and persuasion to support the factions we believe are worthy.
As such some US Libertarians may be asking "Why should we bother to listen to someone who is, not a US citizen, and so far removed from the consequences of US Elections?
Is it not Impertinence of the highest order for outsiders to meddle in American affairs?
I answer that *Only for good reason*… ie If My arguments are sound…then it is *reason itself* that you are acknowledging… and that stands on its own merit… irrespective of it's origin.
And I would also hope that my arguments above on the whole show that having an open Global forum works in favour Freedom of information… against the ability of powerful Political interests to control and manipulate information to the voting public and the world.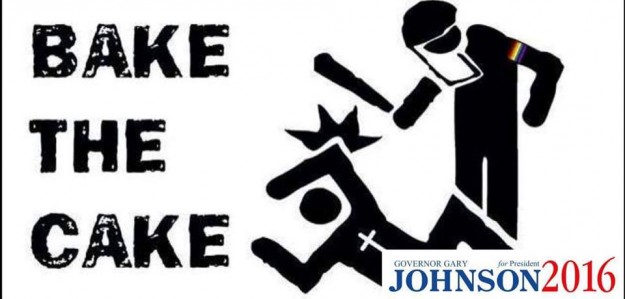 2. with regards to Gary Johnson's phobia about Religious liberty… calling it 'a black hole'.. and then saying he would force a Jewish baker to bake Nazi Cakes….
This pains me. Religious liberty is the fundamental Right… all the rest are corollaries…. Nor is it 'a black hole', the defining limits is *Equality of Liberty*… ie your religious liberty cannot impinge upon the religious liberty of others.
Thus Private property is *The space* for you to Build your temples, schools, and homes to raise your children in your faith…. and free speech is your right to express your values, make apology for your beliefs, and to worship, and propagate your beliefs.
The right to Self defense is your right to defend yourself from Evils… esp from others whom seek to persecute you for your faith, and the right to overthrow the government is your right to resist tyrannical government that impinges upon your peaceful religious liberty to live, sand worship God according to your own conscience.
It is astounding that Gary appears to be oblivious to how his suggestion of Legal compulsion upon the Jewish baker to bake someone a cake against his will is tantamount to slavery… and an absolute violation of *voluntary agreement* that underpins *Free trade*!
It is Repugnant!
It's interesting to me that all this is actually a demonstration of Johnson's *personal* aversion to *Christian values* … He is prepared to make such outrageous statements as compelling Jews to bake Nazi Cakes… so that he may do what *he really wants to do*… force Christians to bake Gay wedding cakes.
Yet while such statements as this were made during the Party Candidate selection process, and were sufficient for many of us to prefer McAffe and Peterson to represent Libertarianism in the Elections… none the less Johnson was successful in winning the Candidacy.
Maybe it is true that Debates and Election meeting play little part in the ultimate choices people make when selecting candidates.
Maybe most people are quick to decide whether or not they like someone, and after that… the rest of the process is of little weight?
What a Libertarian actually sounds like….