To be edited…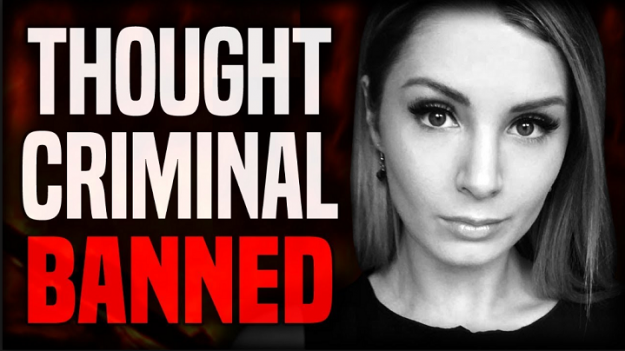 Lauren Southern is everything The Lefty Liberal Retards despise!
Men think She's smokin Hot!
She loves Guns.
She hates Feminism.
And she is a vocal critic of Lefty Liberal Immigration policies.
Banned from Entering New Zealand!
One of the greatest dangers to the conservation of Western culture that Southern and Molyneux want to come to New Zealand to warn us about are those that stem from allowing a large influx of migrants and Refugees…from a starkly different culture.
Migrants who have no intention of assimilating their host nations culture or values and fervently harbour anti-Western ideas… such as outlawing critics of their religion … and that accommodating these alien ideas will spell the end of the Religious liberty we have enjoyed …founded upon tolerance and equality.
This should not be a surprise to anyone… and obviously measures need to be in place to protect the degrading of our rights and Liberties.
The price of Liberty is Eternal Vigilance… Our Heritage of Liberty and tolerance needs to be rigorously defended!
Well… Sadly… We see that the Islamic community in New Zealand already has leadership that thinks nothing of lobbying government to prevent speakers coming here they perceive as being critics of Islam!
And we already have Liberal Politicians who have zero respect for conserving Western culture more than willing to accommodate them!
*And that* is the *Real problem*… because in any society there will always be Petty Groups… and even malevolent groups who desire Laws that circumvent the rights and liberties of others… the problem happens when they are able to move Legal/Political powers to enact their anti-liberty desires.
Does anyone appreciate the Irony of this situation?
The arguments of Southern and Molyneux are being validated before our very eyes!
Is it already too late?
Has the sun already begun to set on Freedom and religious toleration in New Zealand?
I think so!
It is proven that even 'Moderate'… Cosmopolitan forms of Islam (if that is what the 'New Zealand Federation of Islam' claims to be) are organisations dedicated to destroying Western ideals about personal Freedom… and enjoying life in a free and open society… Co-existing in peace based upon Ironclad Rights and liberties.
They want their religion (Islam) to be shielded from critique.
"She's just going to insult all of us"
The Islamic community voiced their opposition to the visit last month.
New Zealand Federation of Islam Associations president Hazim Arafeh said it had written letters to the Immigration Minister, Minister for Ethnic Communities and the Human Rights Commission asking for Lauren Southern to be denied entry.
"[She] abuses her right of freedom of speech. She's just going to give a talk in which she's just going to insult all of us," Mr Arafeh said.
"I don't think insulting Muslims comes under free speech, that's an abuse of freedom of speech.
"I'm talking on behalf of 50,000 to 60,000 Muslims in New Zealand who are going to face a very hard time by all the comments she is going to make."
Source: https://www.radionz.co.nz/news/national/361220/far-right-pair-banned-from-speaking-at-auckland-council-venues-phil-goff
This says it all.
And the Anti-Western Commy Mayor of Auckland Phil Goff tweeted….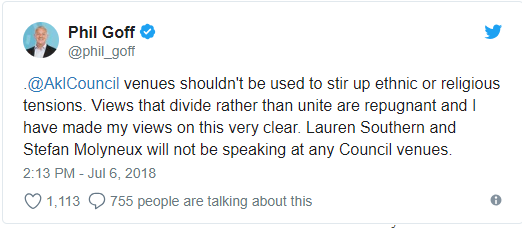 We see Goff quick to capitalize on this opportunity for extreme left 'Virtue signalling' that was not to be missed… under the pretense that the planned Speaking tour was 'Divisive'.
Notice how on one hand we get Western Liberals applauding when their politically appointed partisan Judges insist Christian Bakers must accommodate Customers who want 'Gay Wedding Cakes'… yet also these same hypocritical Ideologues then suggest it is a Right to exercise conscience *not to allow Southern and Molyneux use of Public facilities paid for by all Ratepayers… irrespective of Race, religion, or cultural heritage!
We can be certain that the council has in the past happily allowed its Publicly owed venues for such Radical Racists as
This is clear discrimination by the state in both counts… and on both counts it displays an agenda to suppresses the Religious liberty of the Cultural conservatives for the sake of pandering to the Anti-religious liberty sentiments of various sectors of our society.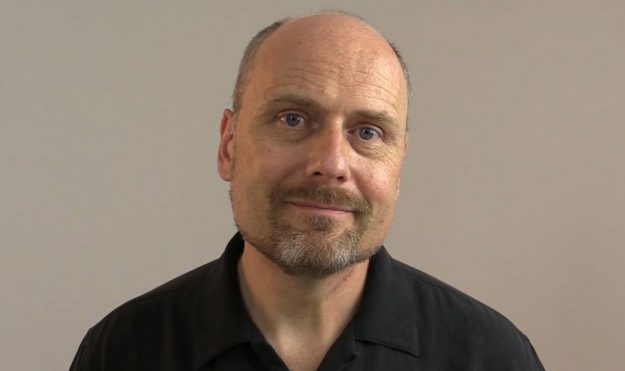 Stephan Molyneux is also everything the Lefty Liberal SJW Retards love to hate.
Hes a Man… (Patriarchal Privilege)
He's White… (White privilege)
He's a defender of Western Values.
He's unapologetic for any of that!
Banned from Entering New Zealand!
******************************************
For The record let it be known that I have been very outspoken about what I didn't like about Trumps Anti-refugee Electioneering… and I have defended the humanitarian urgency with regard to the plight of the Syrian refugees… and so I am not a person who endorses all the sentiments of Lauren Southern and Stefan Molyneux… yet it has been waay too easy for a biased press to wheel out Prejudiced academics like the so-called " Massey University far-right expert and vice chancellor Paul Spoonley …. saying some of what the pair say was considered hate speech and labeling them as 'Far Right extremists'… when in reality Southern and Molyneux are very mainstream Western Conservatives… not Rightist radicals at all.
The last time I remember anything like this was when New Zealanders were denied opportunity to listen to the arguments of Holocaust denier and Historian David Irving… a Man who was later jailed for the crime of having an opinion contrary to The Politicians and academics of Europe.
Now This is no joke!
Not a triffilng matter… not a victory for Social progress… but a plunge into the abyss!
In England, an act of unworthy of any Civilized Free society an associate of Lauren Southern … Journalist Tommy Robinson… was marched straight to jail… without normal due process… because he desired to expose the legal Travesties going on in British courts by which Muslim rapists escape justice that would be meted out to any other demographic!
So on one hand people who balk against the Liberal's PC agenda are criminalised and thrown in jail pronto while the system panders to *Real Criminals* in the misguided idea that Britain ought to accommodate the anti-western cultures of Non-citizens!
The Ultra Right parties are definitely on the rise in Europe… taking advantage of the chaos and disorder that has ensued because of Weak governments management of the Refugee Crisis, yet it is not *Ultra right* to protest against this Politically Correct travesty *but Conservatism*… yet because the principles and arguments that oppose all this Lefty Garbage may be broadly understood as 'Libertarian'… this makes it easy for Lefty academics and politicians to label these ideas as 'Far Right'… which is where these charlatans have always lumped Libertarians… as if they are Nazis!
And the Dopey shepple believe these lies.
Libertarians are as opposed to Rightist Fascism as they are opposed to Lefty Communism … and for the very same reasons… both forms of socialism… on the left and right … are all about totalitarianism… and both trample underfoot the rights and liberties of Individuals… Destroying lives… filling Prisons… and pounding anyone who will not comply into the ground.
And we have Bold speakers here in New Zealand … 'Maori Holocaust deniers' like Bruce Moon and John Ansell who dare to contradict the 'Official History' of the British colonization of New Zealand as being systematic oppression of The Maori people.
Unlike David Irving… Moon and Ansell have history on their side!
The revisionism is the 100% propaganda of the Lefty academics and radicals, yet tt is not a very long march from Banning Foreign speakers… to jailing our citizens who critisise our own governments views.
This is where all this is heading.
Had David Irving been allowed to come here and talk it is highly unlikely he would have persuaded anyone that the German Holocaust against the Jews did not happen!
And at the risk of a few nutballs swallowing a few delusions… the principle of free speech is far to precious to be surrendered!
Read my Blog on the failure of European Governments to keep the peace Here: The Art of Assimilation. Culture shock, Lawlessness, and the challenges facing humanitarian good will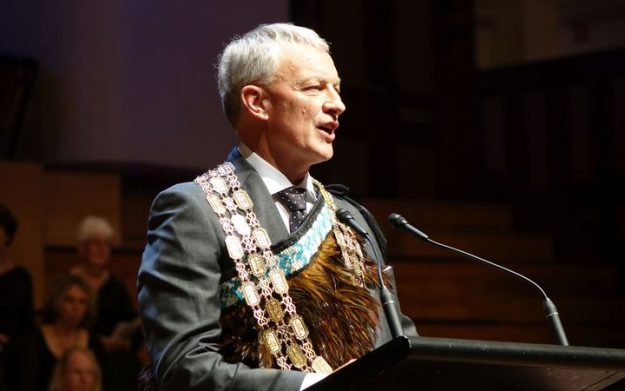 Lefty Liberal SJW Mayor of Auckland.
Lefty Politicians Like Phil Goff's Labour Party… and the Greens that are infested with Purple haired 'Social Justice Warrior' Lunatics… most of whom are confused about their own sexuality…harbor a deep repugnance for New Zealand's Western Christian Heritage, and this being so we see a stark prejudice against Christian values, to the degree that we can be sure that They would not pander to any 'Christian Lobby' that would be silly enough to Demand people like Richard Dawkins or Neil deGrasse Tyson be denied visas 'Because they insult Christianity'… etc.
The Hypocrisy of the left stinks to high heaven!
I believe that if there is any organised protest against this travesty preventing Southern and Molyneux for coming here and talking that all liberty loving Kiwi should endevour to be there… even if you do not endorse what they represent as this not simply about supporting what these individual want to say… Its a much BIGGER and FAR MORE IMPORTANT MATTER!
Its about telling our Government they have no right to shut down Dissenters who peacefully expound Ideas that are contrary to the governments Agenda!
We Kiwi have the right to invite such people… and to listen to what they have to say… and to make up our own minds about such things!
It is Dangerous to allow the government to control what we hear, Read, watch, etc!
This is Fundamental to living in a free society!
Any society that looses this is in grave peril… and will have jails filled with political prisoners… and I am not just talking about Hell holes like North Korea!
The Lefty Liberals about the Globe are fast eroding our rights and Freedom… fast pandering to intolerance… in the name of tolerance!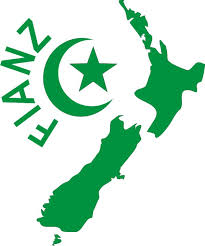 The Great Evil Anti-free speech Liberal doctrine is of course the the Deception of 'Hate Speech' by which any critisism of anything… any group… any idea… may be construed as being 'Hate speech'… esp if such criticism goes against the Agenda of the ruling party.
And of course The Right to Free speech especially matters when people what to say *unpopular things*… because that when intolerant people and vested interests… who have no recourse to reasoned arguments… seek to shut them down by Legalised force.
If This travesty is allowed to pass without protest you can count New Zealand as being one of the most petty Nations on Earth!
A Lefty Liberal S#!t hole!
And next They will Ban Christian speakers who are opposed to Abortion… Or Whom have opposed Gay Marriage…. or Hippies who advocate the end of the war on Drugs!
Etc Etc….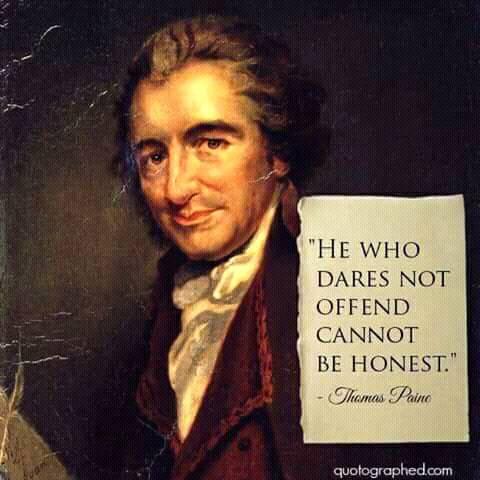 Now though I am a Christian Libertarian, I have no problems with Peaceful Muslims immigrating here… and I have advocated we accept far more Muslim refugees from such Humanitarian Crisis as the Syrian war… yet these people can only come here under the strict condition that they will obey our Laws and respect our Rights and Liberties!
They have no legitimate right to start lobbying the government to pass Laws that infringe upon our legitimate freedoms… or to expect special treatment.
As long as they peacefully go about their own business their is no reason why they cannot carry on enjoying their own culture and beliefs, yet if there is an in-congruence between their culture and that of their hosts… if anyone must culturally change and assimilate… it is the Immigrant… and refuge… not the Citizens of the host country.
If this condition is unacceptable to them… they should leave.
Like Citizens… They may voice their disagreements… yet they certainly dont have the legitimate right to lobby Government to Ban speakers whom are critics of Islam… any more that I have the right to lobby Government to ban critics of Christianity!
If I dont like what some speakers are saying I can ignore them… or take the opportunity to present a rational argument as to why they are in error… or challenge them to Public debate… or if I feel the need I may organise *A Peaceful* and civilized demonstration rally… Yet The Idea that certain speakers may be prevented from holding their meetings because of threats of violence from intolerant groups is absolutely unforgivable!
It is the Governments Job to see to it that Law and order prevails against such thuggery… and that the right to free speech be upheld… against the barbarians who think violence is the way to suppress their critics… rather than civilised debate…
Failure of Government to see to it that Controversial speakers are well guarded… and that the events take place is to let the Mob Rule!
And again we see that it is *The Wacko* Lefties with their 'Social Justice Warriors'… 'Antifa', etc who have no qualms about resorting to Violent protest… rioting… and vandalism.
These things are crimes… not protests… and the Criminals should be thrown in Jails… and be made to pay for any property damage they cause.
They are the most likely to send Death threats, etc
In no way are they like the principled protests of Martin Luther King and his civil Rights movement, and ought to placed in stark contrast to them.
Even when engaged in 'civil disobedience'… They were Never violent… never destructive of property… never angry… but full of Love and high ideals… and they won!
In those days it was the Separatist Status Quo who wanted to shut them down and prevent King and co from speaking… and whom resorted to violence!
Never should the Dialogue on sensitive issues be allowed to be hijacked by Political vested interests or the Mob.
Now I am not suggesting that the Islamic Federation of New Zealand is 'a hotbed of radical Islam' hell bent on turning New Zealand into an Islamic Caliphate'!
I have seen some good things that have come from this organisation in the past… yet I absolutely condemn their demands to ban Critics of Islam from being allowed to come here and talk.
They have overstepped the mark…
Tim Wikiriwhi
Christian Libertarian.
Update: Call for judicial review of Auckland Council agency's blocking of far-right speakers
Great News!
Free speech group raises $50k to challenge Auckland Council over far-Right speaker ban