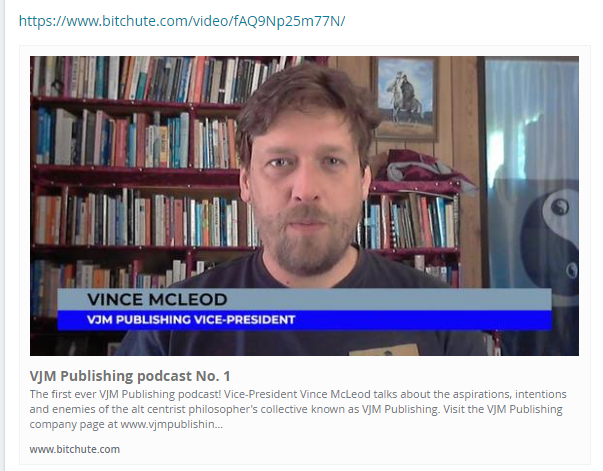 Watch Podcast here.
I am sharing VJM Publishing's podcast in the name of Free Speech.
I have had many on line conversations with Vincent, and read many of his articles of which I would only agree with about 50% of his content, and I would assume he would only agree with about 50% of my own work.
Vincent in fact published a series of critiques on a book on Free Speech to which I contributed several chapters, in which he endorsed portions and critisised others.
All this is good.
Why?
Because that is what freedom and independent thought is all about!
And that is the reason why I am sharing his podcast today… not because I agree or endorse Vincent's positions, but simply because I respect him as a fellow free thinker.
On top of this Vincent is one of the New Zealand internet content creators who received an unwelcome visit from Ardern's thought police questioning him about some of the things he has published on line.
I blogged about that too… read KNOCK! KNOCK! IT'S THE NEW ZEALAND POLICE AND WE WOULD LIKE TO HAVE A FRIENDLY CHAT WITH YOU ABOUT YOUR OPINIONS SHARED ON SOCIAL MEDIA: VJM PUBLISHING 19-7-19

VJM Website here
I clash with Vincent on a broad range of topics from religion to economics, yet in my view he has put out some fine arguments advocating ending the prohibition of Cannabis.
That is one topic upon which we are in accord.
The common assertion that internet users ought to *only share posts, articles, new stories with which they 100% agree with… or 100% accept as being 100% factual otherwise they should be censored and punished is of itself not only a Draconian restriction on freedom, It is patently absurd!
Who agrees with anyone else 100%?
And why should an article of brilliance and insight be rendered 'un-sharable' simply because of a few points of difference or error?
I personally will not accept such terms and restrictions on my internet usage… often times I share things that I totally disagree with because I want to discuss the issues raised!
And so it is with the works of VJM Publishing.
I will not be cowered from sharing his material out of fear that in doing so, I may attract the unwelcome evil eye of the Thought Police whom have him under their gaze.
And if you have watched his first Podcast you cannot help but be amused!
He already has me cracking up!
In all seriousness though he is not jesting about the state of New Zealand under the current Ardern Regime and how it is becoming more risky by the hour to be a vocal Free thinking New Zealander and critic of the Police State that is growing up about us under Our Great Leaders direction.
New Laws of Censorship and punishment's are in the works.
Read TIM WIKIRIWHI'S SUBMISSION TO THE FILMS, VIDEOS, AND PUBLICATIONS CLASSIFICATION (URGENT INTERIM CLASSIFICATION OF PUBLICATIONS AND PREVENTION OF ONLINE HARM) AMENDMENT BILL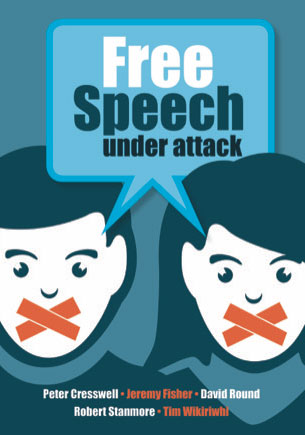 Free speech in New Zealand and abroad is a topic dear to my heart and I have written countless blogposts on this subject.
I share Vincent's concerns the advance of the Ardern Regimes Though Police and that at some time in the future… when they have eliminated all the Big Fish who dare speak things they disapprove of… that then they will turn their attention to me.
Read WELCOME TO THE MACHINE! I GUESS IT WONT BE LONG BEFORE I AM PUT IN JAIL FOR BREAKING NEW ZEALAND 'HATE SPEECH' LEGISLATION.
It is of note to appreciate that since writing that post, talk back radio host Sean Plunket, whose social media post I shared has himself become a victim of Censorship and deplatforming having lost his job at Mediaworks for daring to sympathize with a fellow broadcaster John Banks who had been tarred a feathered for making true statements that none the less were taken as 'racist' and 'offensive' to Maori.
Read Should we care about Sean Plunket's departure from talk radio?
These Radio presenters made the mistake of thinking we still have free speech in New Zealand.
We don't… thanks to the Ardern Regime.
We live under an ever expanding Socialist Police State.
Tim Wikiriwhi.
Christian Libertarian.
'FREE SPEECH AND THE FATE OF SOCRATES', BY TIM WIKIRIWHI. FROM 'FREE SPEECH UNDER ATTACK'. TROSS PUBLISHING 2019.