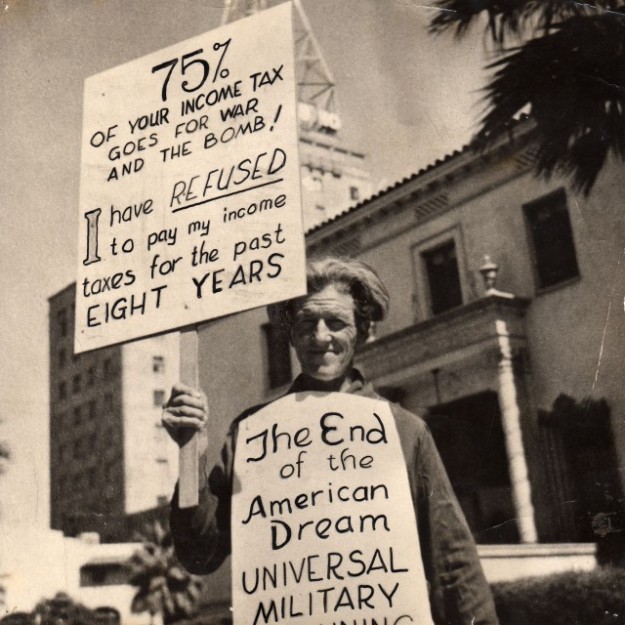 A Christian anarchist is … one who turns the other cheek, overturns the tables of the moneychangers, and does not need a cop to tell him how to behave. A Christian anarchist does not depend upon bullets or ballots to achieve his ideal; he achieves that ideal daily by the One-Man Revolution with which he faces a decadent, confused, and dying world.
Am I still a libertarian?
I don't know the history of the word 'libertarian', who first coined it, or what it originally meant. But today there are at least three senses of the word. In a broad sense, a libertarian is someone who advocates more freedom and less government. In a narrower Randian sense, a libertarian is a minarchist. Someone who asserts that the legitimate role of the state is restricted to maintaining law and order, administering justice, and defending the realm. In the increasingly common modern-day sense a libertarian is a selfish asshole.
I'm still a libertarian in the broad sense, but no longer call myself such, because of the modern-day sense of the word. We owe its rise to Ayn Rand and her followers and to the liberal left who seize upon such opportunities as are provided by libertarians promoting "the virtue of selfishness" to tar us all with the same Objectivist brush. Its the very same statists whose successful attempts to perniciously redefine the word 'liberal' meant that we had to relinquish that particular label in favour of 'libertarian' but now that label too has become more trouble than its worth for true freedom fighters. Rand herself was adept at pernicious redefinition (it's a key ingredient of her philosophical fiction) and we are now reaping the grim rewards of her linguicidal legacy.
Am I still a minarchist? No. (But I'm still a monarchist. Thy kingdom come.)
There's a universal human tendency to latch on to appealing doctrines and dogmas, often at an early age, and then to fall prey to confirmation bias. We all do this, and typically we spend the rest of our lives with blinkers on, rehearsing and attending to information that supports our own settled opinions. And we give succour to inner demons who prowl around our minds like roaring lions looking for anomalous data points to devour. A typical example is that of a child who is raised by overbearing parents in a puritanical Christian household and who in adolescence is introduced to Ayn Rand's novels and fictional philosophy. No doubt such is a liberating catharsis. But theirs is a sad fate. They throw out the baby Jesus with the religious bathwater of their parents but lose none of their parents' zealotry which they take up in service of a seductive but ungodly cause, personal liberty that knows no master but the self. Most tragic of all, however, is the ongoing damage that the mistress of pain inflicts on their already injured minds. Rand both corrupts the soul and rots the brain. Objectivists and other assorted new atheists delude themselves that they are freethinkers yet the truth is that they have shaken of the shackles off their religious upbringings only to straight away submit to mental slavery in a different guise.
The mind of a true freethinker knows no bounds. At will it soars the celestial heavens of human cognition or traverses the valley of the shadow of brain death unscathed. What the mind of a true freethinker does not do is roam only throughout the earth, going back and forth over the same old ground, expecting to revise its worldview according the same old data every time. That's insanity.
All of which is by means of getting around to saying that I've recently reviewed my political belief system and found minarchism wanting. The unexamined belief is not worth believing. Have you ever stopped to question your fundamental minarchist tenets? Minarchists assert that the state should have a legalised monopoly on violence and that it is good and proper that the citizenry should subject themselves to the authority of a gang of armed thugs whose ostensible duty it is to protect us from criminal aggression. But wait. Isn't that the job of private security companies? How much protection is the state supposed to afford us anyway? Our tax dollars already pay for signs chiding us to lock our vehicles whilst blaming the victims of car thefts for the consequences of their own laxity. Shouldn't the state extend this protection to subsidising deadlocks for our front and back doors? State agents could install them at the same time as the (soon-to-be if not already) mandatory insulation in our ceilings and wall cavities, while Nanny checks to makes sure we've shut all the windows before we go out.
Here's what surely amounts to a strong case for anarchism as the only moral system of government. Ayn Rand hated it. She had this to say about the Libertarian Party of her day.
For the record, I shall repeat what I have said many times before: I do not join or endorse any political group or movement. More specifically, I disapprove of, disagree with, and have no connection with, the latest aberration of some conservatives, the so-called "hippies of the right," who attempt to snare the younger or more careless ones of my readers by claiming simultanteously to be followers of my philosophy and advocates of anarchism. Anyone offering such a combination confesses his inability to understand either. Anarchism is the most irrational, anti-intellectual notion ever spun by the concrete-bound, context-dropping, whim-worshiping fringe of the collectivist movement, where it properly belongs.
And this is the main thrust of her argument.
A recent variant of anarchistic theory, which is befuddling some of the younger advocates of freedom, is a weird absurdity called "competing governments." Accepting the basic premise of the modern statists—who see no difference between the functions of government and the functions of industry, between force and production, and who advocate government ownership of business—the proponents of "competing governments" take the other side of the same coin and declare that since competition is so beneficial to business, it should also be applied to government. Instead of a single, monopolistic government, they declare, there should be a number of different governments in the same geographical area, competing for the allegiance of individual citizens, with every citizen free to "shop" and to patronize whatever government he chooses.

Remember that forcible restraint of men is the only service a government has to offer. Ask yourself what a competition in forcible restraint would have to mean.

One cannot call this theory a contradiction in terms, since it is obviously devoid of any understanding of the terms "competition" and "government." Nor can one call it a floating abstraction, since it is devoid of any contact with or reference to reality and cannot be concretized at all, not even roughly or approximately. One illustration will be sufficient: suppose Mr. Smith, a customer of Government A, suspects that his next-door neighbor, Mr. Jones, a customer of Government B, has robbed him; a squad of Police A proceeds to Mr. Jones' house and is met at the door by a squad of Police B, who declare that they do not accept the validity of Mr. Smith's complaint and do not recognize the authority of Government A. What happens then? You take it from there.
Very well, then. Let's take it from there. A weird absurdity called "competing governments"? It's what the world has now and has had since the dawn of civilisation. A number of different governments in the same geographical area? Yes, that's how the habitable surface of the planet has always been carved up. Nor can one call it a floating abstraction? No, let's call it God's green earth, a glorious gemstone floating in space. Cannot be concretized at all, not even roughly or approximately? Third rock from the sun.
Rand's objection to anarchism amounts to no more than a description of the state of global politics. Terra firma is today divided up into a relatively small number of nation states, all controlled by governments that oppress the citizenry to a greater or, thankfully, lesser extent.
Why shouldn't every citizen be free to "shop" and to patronise whatever government he chooses? Standard libertarian thinking is that borders should be open to peaceful people. So why don't we have open borders globally? Because, as Rand rightly observes, forcible restraint of men is the only service a government has to offer!
Ask yourself what a competition in forcible restraint would have to mean. It would mean anarchy. Which is what the world has now. Except that size does matter. Anarchists support there being a relatively huge number of nation states. Fragments of what used to be. The only limit to the number of nation states on the planet being the number of sovereign individuals.
Now consider what it is that Rand inadvertently (yeah right) is actually advocating. She's advocating a single, monopolistic world government. That tyrannises the entire world, erasing all and any borders for inmates of what is now a prison planet to flee across. Welcome to Ayn Rand's new world order.
Ask yourself what no competition in forcible restraint would have to mean. It would have to mean one world government, a statist hell on earth, and one head of state. And all the kingdoms of the world and their splendour would now be his.
https://www.youtube.com/watch?v=1RxUzXzGSFA