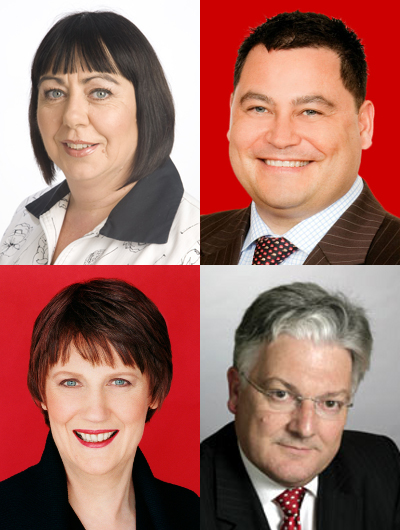 Labour List MP Charles Chauvel (pictured top right) has resigned from Parliament (effective 11 March). He's going to a job at the United Nations where he'll join his former boss, former Labour Prime Minister Helen Clark (pictured bottom left).
The United Nations is a common penultimate destination for Labour's troughed-out ex-MPs. (When they die, they go to the great trough in the sky.)
Former Labour List MP Carol Beaumont (pictured top left) is set to return to Parliament as Chauvel's replacement. We'll be up a trade unionist abortionist and down a gay lawyer. This minor opposition reshuffle is interesting (to me) for two reasons.
Firstly, Chauvel sponsored a Member's bill, the Credit Reforms (Responsible Lending) Bill, which would have dealt to scum-of-the-earth usurers.
Ever since I became an MP, an issue that I have supported is the regulation of so called "loan sharks". Loan sharks prey on the vulnerable with unscrupulous rates of interest and this includes many of our Pacific people. They are the scourge of our community and instead of lending a helping hand keep borrowers in poverty. It is common for payday lenders to charge interest at rates between "only" 8% and 15% per week, compounding well into four figures at a time when mainstream rates have declined.
Chauvel's Credit Reforms (Responsible Lending) Bill was drawn from the ballot in 2009. In early 2010 Beaumont took over responsibility for Chauvel's bill, which was subsequently defeated at its first reading in July 2010. So, a common interest there, and with Beaumont back in Parliament perhaps we'll still see some action on loan sharks.
Secondly, three elections in a row Chauvel failed to unseat United Future MP Peter Dunne (pictured bottom right) in the Ōhariu electorate. Dunne gloated tweeted from Dubai airport
Ready to board Melb/Auck flight. After what's been happening in NZ today certainly seems time to come home and join the fun.
Chauvel did succeed in reducing Dunne's majority from 12,534 (in 2002) to 7,702 (in 2005) and 1006 (in 2008) but 1392 (in 2011) was a miss as good as a mile. I hope Labour puts up a strong candidate to contest the Ōhariu electorate in 2014. It's way way wayyyy past time to flush the Dunney!