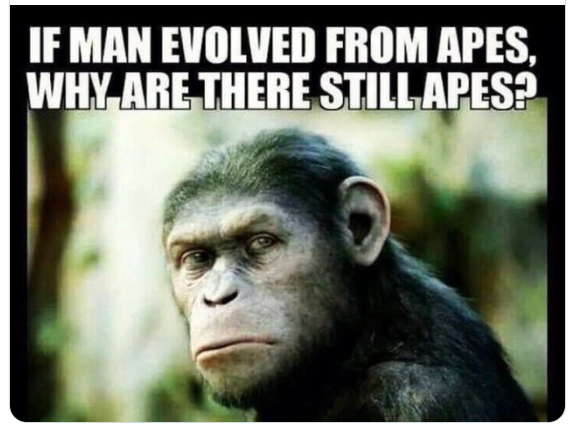 This meme (above) popped up on my Twitter feed today.
I was not sure if the person who posted it was seriously asking this question, or was just trolling those of us who believe in Special creation and reject Evolution.
It matters not, for irrespective of the motive for making this post I took the opportunity to throw in my personal opinion about Evolution as being pseudo-science…

This quickly solicited a response that inferred the Evolution hypothesis could be falsified…
I was able to rebut this assertion with little fuss on my part.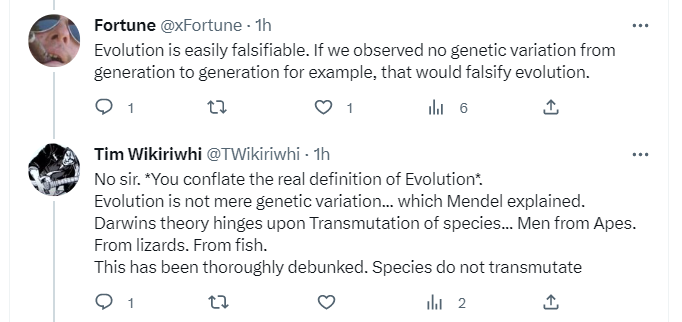 Did my accurate rebuttal phase my antagonist in any way? No.
He simply repeated his original claim. So I expanded my original rebuttal.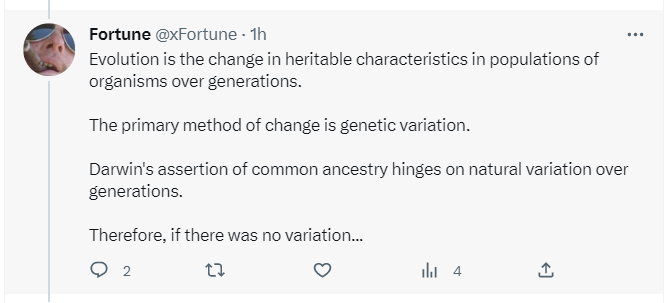 Unflinching, he continued to spiel unsubstantiated evolutionary jargon as if it was science…adding he thought Darwin's ignorance of genetics to be 'irrelevant'!
It's far from 'irrelevant' for it was only in the vacuum of ignorance about genetics that Darwin's bunk ideas were able to take hold of the imagination.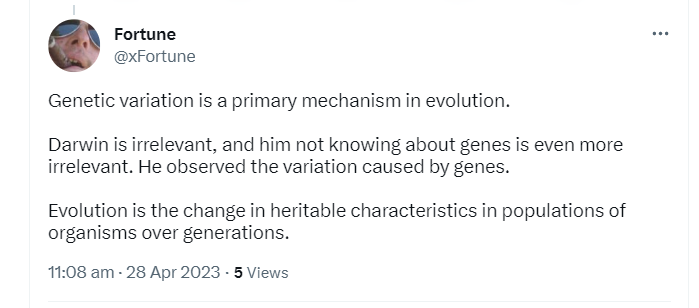 He then tried to justify evolution by suggesting that getting new genes was not necessary for evolution (below)!!
I immediately pointed out the error of his contention, and that in fact this was more evidence against evolution…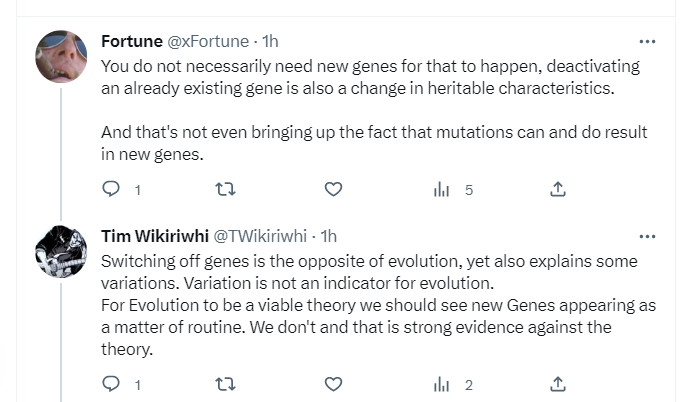 Mutations do not result in new Genes. There has never been a new creature discovered via Mutation. Even Darwin recognised Mutation as having massive negative impacts on the fitness of Species. The math is so far against the claim that mutations are an evolutionary force as to render the postulate utterly delusional.
Evolutionists clutch at such straws notwithstanding.
Like a stuck record… and he even admitted such (saying for the third time) he repeated what he had already repeated… but also threw in some Ad Hominem attacks on my personal intelligence and learning! That's what these people do!

This is a signature characteristic of an indoctrinated mind. When confronted with cogent arguments that are completely at variance with what they themselves have been led to believe. Instead of taking time to cognate the plausibility of what they have been proffered, instead they start to assume this line of reasoning can only come from ignorance of what they have assume to be unquestionable truths.!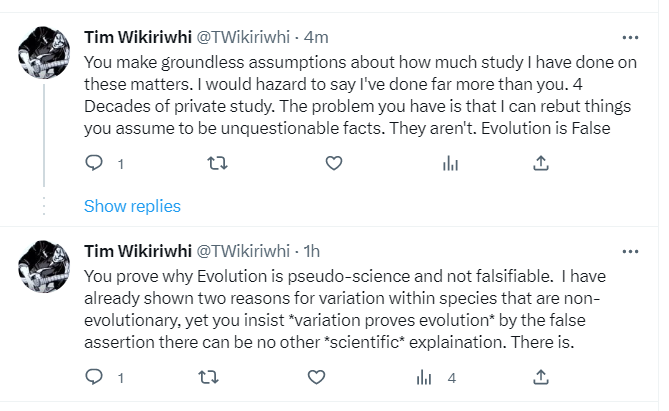 At this point the poor fellow started to implode… denying his original proposition!

Realising nothing I marshalled would penetrate the stone walls of his fortified mind I felt best to draw this thread to a close… yet not without firing the obligatory parting volley!
Yet not to be bested he fired his own… not realising he again shot himself in the foot by re-asserting the notion that *Evolution would be falsifiable* *if only there were no variations*! This is a falacy of circular reasoning…
"Evolution could be falsified if we found no variations, yet because we find variations Evolution cant be falsified!"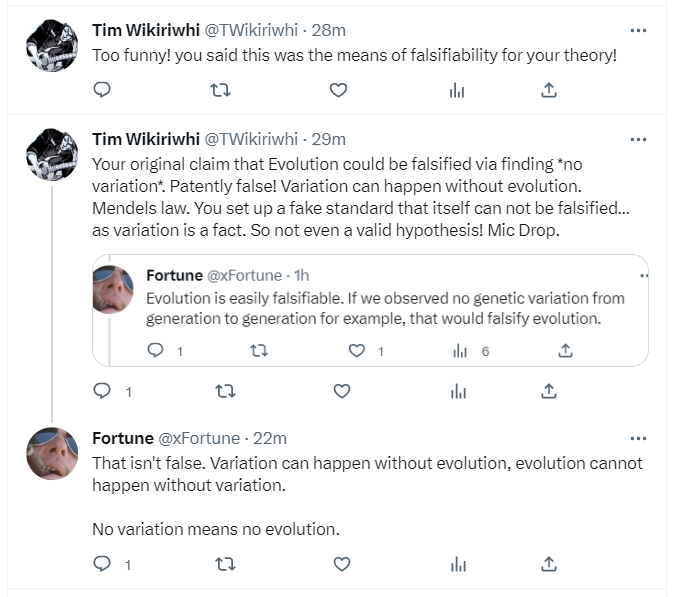 When he said "For the third time: evolution is the change in heritable characteristics in populations of organisms…" The sneak snuck in quite a significant modification to his original contention.
At least he was trying another more nuanced approach. Yet alas thereby he sinks his own ship…

Most of you will be familiar with how Social media debates play out. They do not always flow in a linear fashion from point A to Z as it is possible to read, and re-read the debate and randomly throw in commentary as and when we feel moved to do so. This means the debate can 'jump about'.
In this Blog article I have done my best to present the argument fairly, yet as a matter of course I have juxtaposed the screen shots in a way that best suits my argument. not in real linear time. I do not mean to disadvantage my antagonist by not declaring this home advantage I have…
Ultimately if this guy wanted to be both honest and maintain his integrity, After I had shown him how variations are explicable without any evolution, he simply ought to have retracted his original claim that Evolution could be falsified via the means of *no variation*. That is patently false. Not only that yet he set up a standard that could not be falsified… as variation is a fact.
If Evolutionists want to defend their Mythical tale as an actual scientific theory they will have to find a better argument for it's falsifiability.
So my Premise stands… Evolution is Pseudoscience because it is unfalsifiable.
I'd be happy to accept any challenges to this Granite solid proposition.
Tim Wikiriwhi.
Christian Libertarianism.
Update:
I informed 'Fortune' that I had turned our debate into a Blog article and that if he did not think I represented him faily that he should write a retort in the comments (below) and that I would let it stand as his right of reply. this was his response…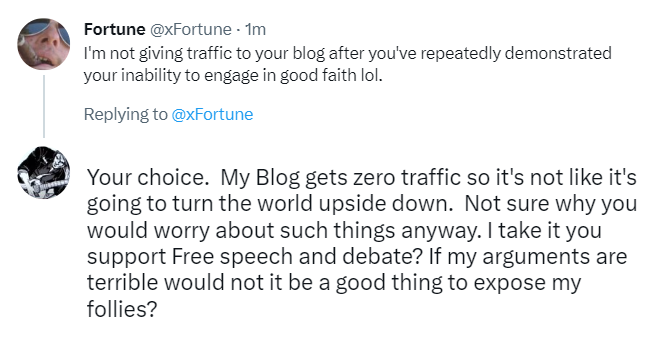 Ask yourself why is it necessary to cast slurs on a person's character simply because they rigorously oppose something you hold to be true?
Is it not possible to disagree yet remain civil?
This is a requisite IMO for a free and enlightened society.
More from Tim…
SCIENTIFIC FACT…WE HUMAN BEINGS ARE THE CHILDREN OF ADAM AND EVE. MENDEL IS KING OF GENETIC TRUTH…NOT DARWIN! IF NOT EVOLUTION THEN WHY DO DIFFERENT RACES EXIST?
THE WALLS ARE CLOSING IN ON ATHEISM… NOT THEISM.
WHY HAVE WE NOT MET ALIENS? ARE WE ALONE IN THIS UNIVERSE?
THAT MOMENT WHEN THEY BEGIN TO EXPLAIN THAT ABIOGENESIS IS NOT SPONTANIOUS GENERATION.
PASTEUR'S LAW, CREATION SCIENCE VS NOSE BONE ATHEISM.
DINGBAT ATHEIST PSEUDO-SCIENCE. INSTANT LIFE… JUST ADD WATER!
THE WALLS ARE CLOSING IN ON ATHEISM… NOT THEISM.
The myth making processes of Pseudo Science. The Epic Tale of the Simple cell. (Part 1)
David Berlinski—Atheism and its Scientific Pretensions
Evolutionary 'Mumbo Jumbo' of the the Week. "Why Do Humans Cry?"
Multiplying Absurdities Equals Certainty… The Math Magic of Modern Atheist Astrologers!
Dingbat Atheist Pseudo-science. Instant Life… just add water!
Science goes Ga Ga! The Spirit Temple-Material Interface. The Human Brain.
Russell's Teapot really refutes Atheism not Theism!
The Ludicrous Claims of Evolution! Why not ESP?
Faith, Science, and Reason. The Pomposity of Atheism.
Square Circles. When Continuity is claimed as Evolution
The Lies of Atheist Pseudo Science.
GENESIS IS REAL HISTORY: EVIDENCE SUPPORTING THE ACCOUNT OF NOAH.
EVOLUTIONISTS ADMIT GLOBAL FLOOD. JOE ROGAN EXPERIENCE.
NOAH'S ARK GIVEN THE SEAWORTHY SEAL OF APPROVAL BY PHYSICISTS. NZ HERALD