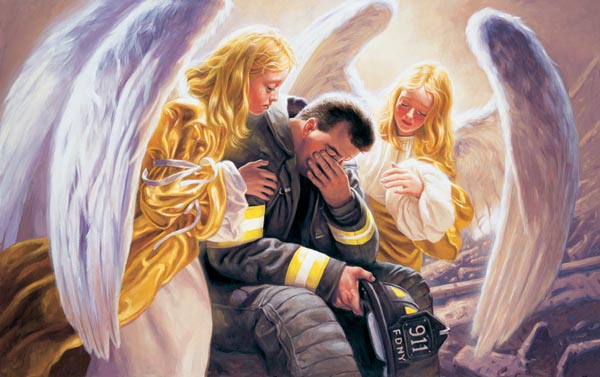 The materialist/ monist view of death is that once the Body dies… the conscious being of a person is annihilated… because to their way of thinking our consciousness is nothing more that the result of an attunement of atoms.
Thus there can be no judgement for sins because not only in the materialist view is there no judge.
They say their is no objective moral Law, nor 'anyone' to be held account… the actions of a person merely being the blind outworking of Materialist determinism.
It is vitally important to distinguish this false conception of Human life and death from what the Bible clearly teaches… and that is that Death does not result in the annihilation of the conscious being/ personality… which being created in the image of God is both non-materialistic, and eternal… and morally capable (possessed of conscious free-will) and accountable.
It defies belief that there are many 'highly educated' people who claim to be Christians yet fail to be able to believe in Man's Dualistic nature.
They dont believe in Freewill.
They dont believe any part of us survives death.
In these things they are Atheists.
What is even more absurd is that the say they reject Dualism because they cant understand it… deluding themselves that they *can understand* how consciousness can be derived from Dead matter!
The reality is that the cannot understand such a thing either!
Yet they have been sucked so far down the superstitious highway of Naturalism… the false religion of our age…. that they trust in the follies of rebellious and vain human scholarship and pseudo-science rather than in the word of God.
What is doubly ironic is that Christ himself condemned the heretical Jewish sect called the Sadducee's
for believing these very same *monist* beliefs in respect to Life after death, and judgement.
He told them that at that very moment Abraham, Isaac, and Jacob were *Alive*… though their bones were in their sepulchres.
"…Then come unto him the Sadducees, which say there is no resurrection; and they asked him, saying,
Master, Moses wrote unto us, If a man's brother die, and leave his wife behind him, and leave no children, that his brother should take his wife, and raise up seed unto his brother.
Now there were seven brethren: and the first took a wife, and dying left no seed.
And the second took her, and died, neither left he any seed: and the third likewise.
And the seven had her, and left no seed: last of all the woman died also.
In the resurrection therefore, when they shall rise, whose wife shall she be of them? for the seven had her to wife.
And Jesus answering said unto them, Do ye not therefore err, because ye know not the scriptures, neither the power of God?
For when they shall rise from the dead, they neither marry, nor are given in marriage; but are as the angels which are in heaven.
And as touching the dead, that they rise: have ye not read in the book of Moses, how in the bush God spake unto him, saying, I am the God of Abraham, and the God of Isaac, and the God of Jacob?
He is not the God of the dead, but the God of the living: ye therefore do greatly err."
Jesus Christ.
Mark 12vs 18-27.
That the soul goes on is one of the most beautiful, yet frightening truths of the scriptures.
It is both Hope and Dread.
Hope for those of us who have faith in Christ and have a burning longing to be reunited with our loved ones… and with God our Father, and Christ our Saviour in eternity.
yet still it is dread for those of us who have faith in Christ, yet fear the reality that many of our fellow sinners… Family members and friends have rejected Salvation and will be lost for eternity.
These are the ultimate realities of Christianity.
They are too much for 'the Natural man' to comprehend… they are foolishness unto them.
Read St Paul… 1 Corinthians chapter 1.
more Blog posts on Monism vs Dualism…
Christopher Hitchens Dies.