The 'female Schindler' who saved 2,500 Jewish children but died wishing she'd rescued more.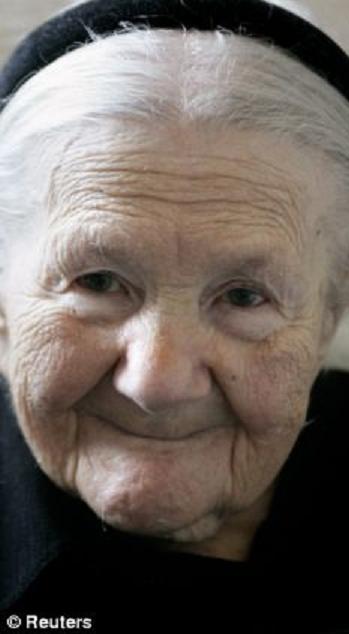 She smuggled out the children in suitcases, ambulances, coffins, sewer pipes, rucksacks and, on one occasion, even a tool box.
Those old enough to ask knew their saviour only by her codename "Jolanta".
But she kept hidden a meticulous record of all their real names and new identities – created to protect the Jewish youngsters from the pursuing Nazis – so they might later be re-united with their families.
By any measure, Irena Sendler was one of the most remarkable and noble figures to have emerged from the horrors of World War II. But, until recently, her extraordinary compassion and heroism went largely unrecorded.
When the Germans finally caught her, the Roman Catholic social worker had managed to save 2,500 Jewish babies and toddlers from deportation to the concentration camps.
She had spirited them out of the heavily-guarded Jewish ghetto in Warsaw, and hidden their identities in two glass jars buried under an apple tree in her neighbour's garden.
She was beaten, tortured and sentenced to death by the Gestapo – who even announced her execution. But Irena survived, her spirit unbroken, her secrets untold.
She died last week, in her modest Warsaw apartment, aged 98. What a woman she was. For once, the term "heroine" is no exaggeration, though such plaudits did not sit easily with her.
She said: "I was brought up to believe that a person must be rescued when drowning, regardless of religion and nationality….
Read more: http://www.dailymail.co.uk/femail/article-1021048/Female-Schindler-Irena-Sendler-saved-2-500-Jewish-children-died-aged-98.html#ixzz2a2lN1E2f
Follow us: @MailOnline on Twitter | DailyMail on Facebook
Her last years were spent in a wheelchair, thanks to the wounds inflicted on her by the Gestapo.
A few months before she died, she said: "After World War II, it seemed that humanity understood something, and nothing like that would happen again.
"Humanity has understood nothing. Religious, tribal, national wars continue. The world continues to be in a sea of blood."
But she added: "The world can be better if there's love, tolerance and humility."
Irena Sendler had all three in abundance.
Irena represents the very best of humanity.
She embodies Love, courage, Justice….
When I contemplate what this woman did… I feel very small.
I sit in awe.
RIP Mighty Hero!