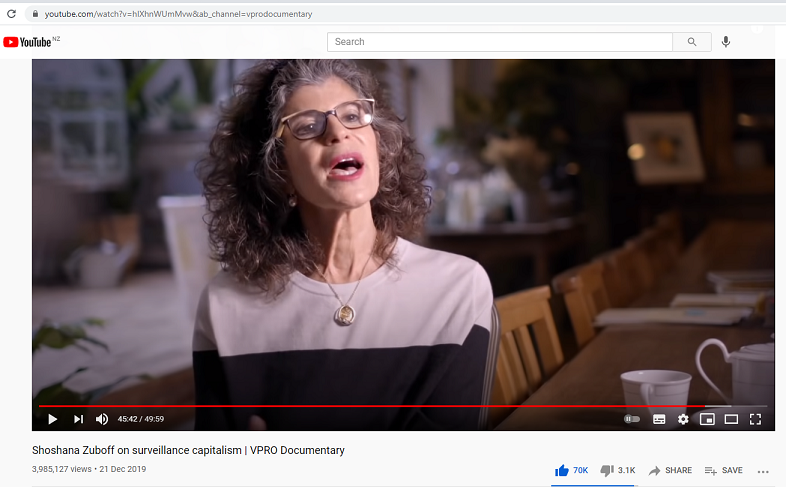 Right when you thought you understood how Woke Big Tech were influencing elections…. this happens.
Wow.
In the midst of so much crazy shit… this takes things to an even more psychotic level!
The Puppet Masters.
It gives a surreal epiphany into the all seeing Eye of the Illuminati… here being described as 'Surveillance Capitalism'.
She even mentions New Zealand and Australian youth as targets in the same breath as 'influencing elections'.
And is it not interesting that this is also the very demographic that New Zealand leftist parties have been trying to increase the voting franchise.
More from Tim….
GAB, MEWE. LIFE ON THE FRONTIER. MY POST-FACEBOOK EXPERIENCE IN ALTERNATIVE SOCIAL MEDIA SITES.
THE MATRIX : FACEBOOK, AND THE END OF FREE SPEECH AND DEMOCRACY IN NEW ZEALAND.
CRAFTY ANDREW LITTLE AWAITS 'RIGHT MOMENT' TO SNATCH AWAY FREE SPEECH IN NEW ZEALAND. LETS BE READY TO DEFEND OUR NATION FROM THESE DESTROYERS!
JACINDA ARDERN IS MORE DANGEROUS THAN COVID-19: CENSORSHIP AND CONTROL OF THE PRESS.
FACEBOOK'S 'COMMUNITY STANDARDS' ARE A DESPICABLE FRAUD TO COVER THEIR POLITICAL SUPPRESSION OF CRITICISM OF THE LEFTIST GLOBALIST AGENDA
MY COVID-19 FACEBOOK PAGE. TYRANNY AND THE POST-FREE SPEECH ERA.
FACEBOOK IS WAGING A WAR ON INFORMATION.
FACEBOOKS COLLABORATION WITH LIBERAL TYRANNY. SHUTTING DOWN DISSENT AGAINST NEW ZEALAND PM'S NEW GUN BANS
FACEBOOK AI DOES NOT FOLLOW THEIR OWN COMMUNITY STANDARDS… BUT THEN WHO EXPECTS INTELLIGENCE FROM A STUPID ROBOT?
ITS TIME FOR THE FREEDOM MOVEMENT TO LIBERATE THEMSELVES FROM FACEBOOK… GET THE PARTY STARTED OVER ON ME WE!
TIM WIKIRIWHI'S SUBMISSION TO THE NEW ZEALAND GOVERNMENT'S CONSTITUTIONAL REVIEW. 2013