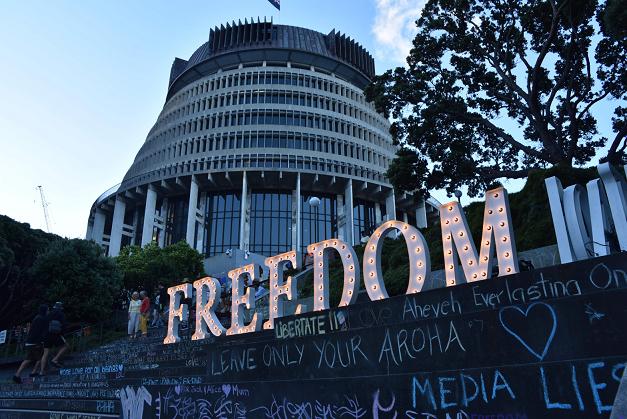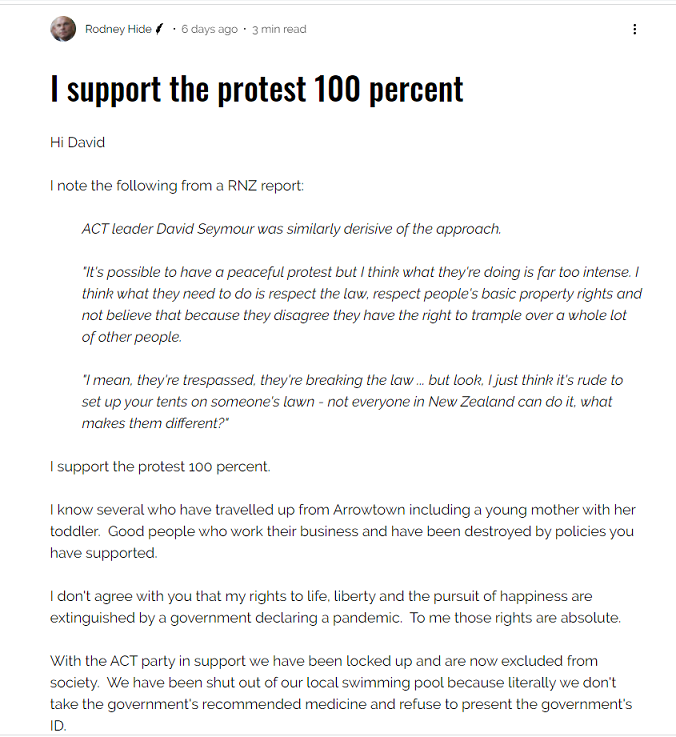 Read full statement here
CLASSIC! Hide pouring well deserved scorn on PATHETIC David Seymour and his utter failure to defend the rights of New Zealanders reeling under the onslaught of Far Left PM Ardern's Socialist tyrannical Covid measures!
Hide in particular leads by example saying he personally supports the Anti Mandate Protests currently being staged outside the Beehive over the past several weeks.
In this Rodney derides Seymour for his petty complaints about the protests 'ruining the grass'.
Seymour displays his utter disconnect with how vicious Ardern's policies have been upon those who will not bow before her. Seymour seems to think the behavior of the protests have been unduly Riotous and Hateful.
Hide on the other hand has a far better understanding of the oppression and injustice the protesters have endured at the hands of Ardern, and marvels at their restraint!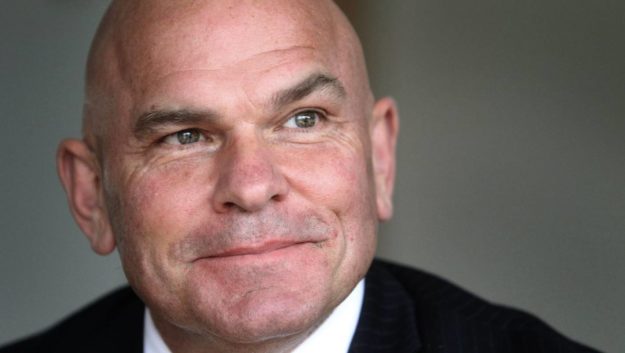 Former Act Party Leader Rodney Hide. (Photo credit here)
That Hide had to give Seymour such a basic lesion on Rights and Freedom speaks volumes about Seymour's feeble apprehension of the very core values and principles he claims to champion!
Under Seymour Act has become the phoney Freedom party!
In reality Act is today merely the 'David Seymour party' in the same way New Zealand First is the 'Winston First' party.
Act policies are not principles… but what ever horse shit comes out of David Seymour's pea-brain.
It is patently obvious that none of Act's other Mp's who owe their positions to Seymour is allowed to dissent from their Leaders dictates…. How shameful none of them has had the courage to publicly dissent from David's shameful support of the Ardern regimes Covid 19 tyranny.
Despite my reservations… and because of a dearth of alternatives…over the last 10 years I have done my best to try and support Act and encourage David Seymour to walk the principled path only to be disappointed *every time*.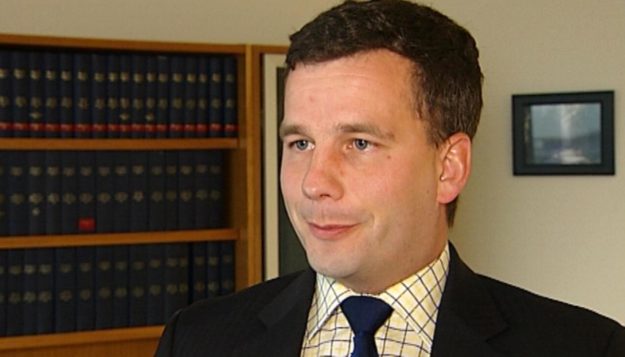 Current Act Party Leader David Seymour. (photo credit here)
Act picked up a lot of support last election when David came out in opposition to Ardern's new gun prohibitions, yet it turns out that this stand was not taken because of ideological integrity but from pragmatic opportunism in fortuitous alignment with David's own capricious enjoyment of shooting.
This seems to be the essential criteria.
We must ask if David himself had a personal aversion to shooting would he have come out in support of Gun owners rights on principle alone?
That is highly unlikely… and that is why I say he operates very much the same way as Winston Peters… via his own whims and inclinations… fishing for votes… not guided by principle.
He will use principles only when he believes there is a vote in it for him… otherwise he will disregard them at his own pleasure.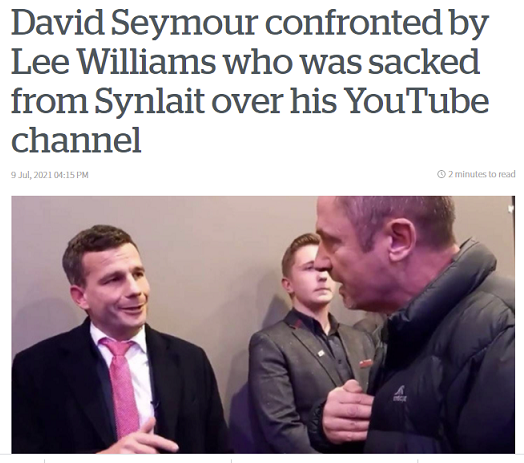 David proved his claims to be a defender of the principle of Free Speech were exposed when he failed to condemn the deplatforming and persecution of Youtuber Lee Williams. That again was a classic example where David allowed his personal dislike of Lee to cloud his judgement.
This showed Seymour was simply politicking for votes when he claimed to champion Free Speech.
And he will sit on his hands and allow injustices if he does not like you.
That is how petty he is.
Read: WILL DAVID SEYMOUR ABDICATE THE FIGHT FOR FREE SPEECH TO JUDITH COLLINS? A CONFRONTATION WITH LEE WILLIAMS.
Though I have been absolutely disgusted with Seymour's failure to oppose Ardern's Rampant Covid 19 Tyranny that has been enslaving and destroying lives, The last straw for me was earlier than the 2019 Pandemic when David supported Ardern's Ultra-radical Abortion laws that allow children born alive after failed abortions to be left without medical assistance on the slab… to die!
This again demonstrated Seymour's complete lack of understanding about Rights and responsibilities!
I will never vote Act as long as David Seymour is Leader.
He is a Flake and a fraud… a Politician in the worst sense!
In our Nations hour of need he has been found wanting.
He has supported the destruction of our Nation by Ardern.
Seymour doesn't even have enough brain cells to appreciate the Great Reset is a real thing!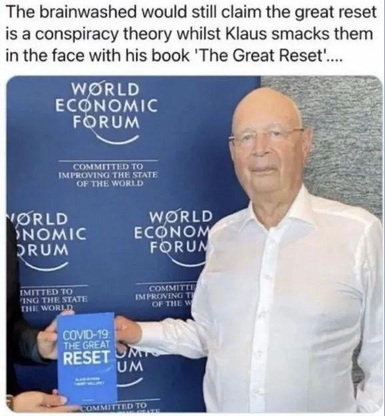 Hopefully by the 2023 Election the newly invigorated Freedom movement in New Zealand will have formed a vote-worthy alternative to represent Freedom lovers who want to Constitutionally protect our nation from such treasonous, Radical, and patently tyrannical policies as were enacted under Ardern's 2 terms.
We want our Country Back!
END The Mandates!
Undo all Ardern's tyrannical Legislation.
We must amend and entrench the Bill of Rights, esp section 11!
'Every person has the right to refuse to undergo any medical treatment'.
Private companies must be held to uphold the Bill of Rights.
Tim Wikiriwhi.
Christian Libertarian.
Update: Rodney Hide's article seems to have touched a nerve with Seymour as he has 'appeared' in public opening up a dialogue with the protesters…
Watch the video below.
By supporting Arderns tyranny Seymour has dug a big hole for himself and Act's support is in decline.
Don't you think it is hypocritical for him to say that he only agreed to talk with the Protesters because 'a Friend in business who was being adversely affected by the protests' asked him to meet and open dialogue. He says it is 'unacceptable' that the protests have impacted on Wellington businesses like this, and yet where was David's voice opposing the impact on business of all the lockdowns, the heavy borrowing, and esp the thousands of Job losses of New Zealanders via Ardern's Vaccine mandates?
You know… the very things that have caused New Zealanders to exercise their democratic right to congregate in Wellington to express their anger???
Where was his condemnation and opposition to the passing of Legislation that violated the Bill of Rights?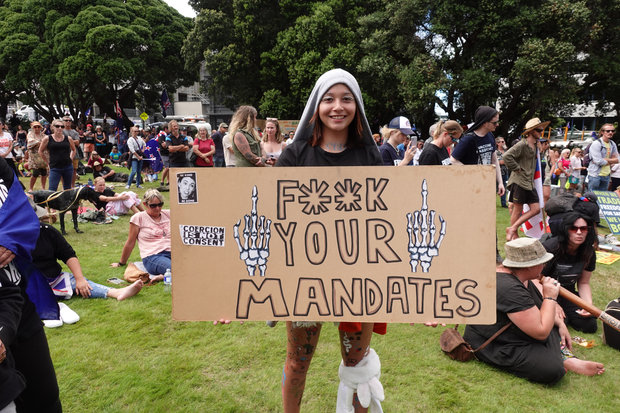 Update 2.
My goodness… even 'Dame' Tariana Turia has now come out in 'whole hearted support' of the Anti-mandate protesters against the Ardern Regime!
She even says she is against the mandates *in Principle*!
She even see's through the Government attempts to paint this protest as criminal and violent.
Now I am a long term critic of Turia's separatist politics yet in this broadcast … On all points she shows superior moral courage than Seymour on this current issue and deserves commendation.
Listen to No confidence in Ardern – Dame Tariana Turia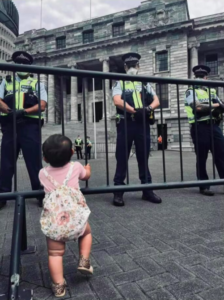 More from Tim…
WHERE IS THE ACT PARTY? WHERE IS THE NZ FREE SPEECH UNION? THE DEPLATFORMING AND VICIOUS PERSECUTION OF YOU TUBER LEE WILLIAMS BY THE MAORI PARTY.
TRANSHUMANIST NANO TECH PARTICLES FOUND IN THE COVID 19 VACCINES? ARE THESE THINGS REALLY IN THERE? LIVING NOW IN THE LAST DAYS…
BITCHUTE: REINER FUELLMICH'S OPENING STATEMENTS @ GRAND JURY COVID-CRIMES AGAINST HUMANITY NUREMBERG 2.0 TRIAL
WILL NEW ZEALAND HEALTH MINISTER ANDREW LITTLE BE ARRESTED FOR MANSLAUGHTER (BY COVID 19 VAX)? I HIGHLY DOUBT IT.
MANDATING COVID 19 VACCINATIONS IN NEW ZEALAND WORKPLACES. MY SUBMISSIONS TO FONTERRA COMMITTEE VACCINE MANDATE PROPOSAL AND RISK ASSESSMENT. BY TIM WIKIRIWHI.
THE STORY OF COVID 19 IN NEW ZEALAND, BY TIM WIKIRIWHI 2021.
MY SUBMISSION ON THE INQUIRY INTO THE GOVERNMENT'S RESPONSE TO COVID 19.
JACINDA ARDERN IS MORE DANGEROUS THAN COVID-19: CENSORSHIP AND CONTROL OF THE PRESS.
JACKBOOT NEW ZEALAND POLICE USE FAKE COMPLAINT TO RAID CHRISTIAN PASTOR CARL BROMLEY' S HOME AND TAKE HIS LEGAL FIREARM. WAS THIS ANOTHER ATTACK BY THE RADICAL FAR LEFT DEPLATFORMING GANG?
NEW ZEALAND PREPS FOR THE GREAT RESET: DIGITAL IDENTITY SERVICES TRUST FRAMEWORK BILL. SUBMISSION BY TIM WIKIRIWHI, CHRISTIAN LIBERTARIAN.
MAKING ARDERN GO AWAY! 30-10-21. LARGE ANTI-LOCKDOWN/VAX MANDATES PROTEST IN HAMILTON (AND ELSEWHERE). NEW ZEALANDERS HAVE HAD ENOUGH AND DEMAND THEIR FREEDOM AND RIGHTS BACK!
JACINDA ARDERN'S CONTEMPT FOR NEW ZEALANDERS WHO WILL NOT SUBMIT. ARDERN'S ECONOMIC DESTRUCTION OF OUR NATION, AND THE RISING OF RESISTANCE AGAINST HER..