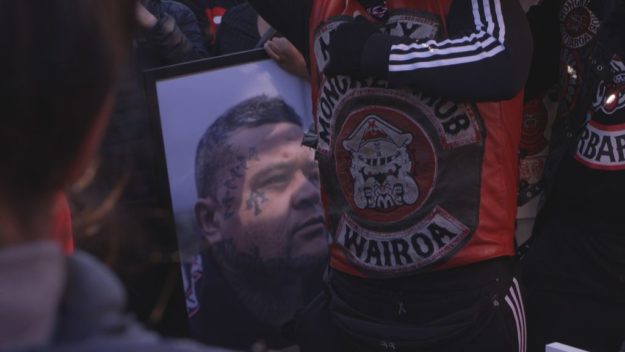 Picture from here.
The small Bay of Plenty Town of Opotiki was centre stage for New Zealand news this week after a regional Gang Boss was murdered.
The victim was Mongrel Mob 'Barbarians' Chapter President Stephen Rota Taiatini.
Word is he was taken out… Run down by a Ute… following shortly after MM associates did a hit on a rival gang residence, thus fueling fears of a Gang war.
News media report the town became 'locked down', not by Police investigating the crime, but was 'taken over' by the Mongrel Mob, as gang members from far and wide congregated in Opotiki in a display of Gang solidarity and strength.
They were controlling who was allowed in and out of certain areas.
Gang 'Tangi' are some of the biggest funerals that happen in New Zealand, esp when the deceased is a Gang Boss.
Hundreds of motorcycles, trucks, and gang sleds rumbling about, doing burn outs and other general Thuggy deeds. Schools shut down for fears of children's safety.
Media says the Police are out numbered and have lost control of the situation.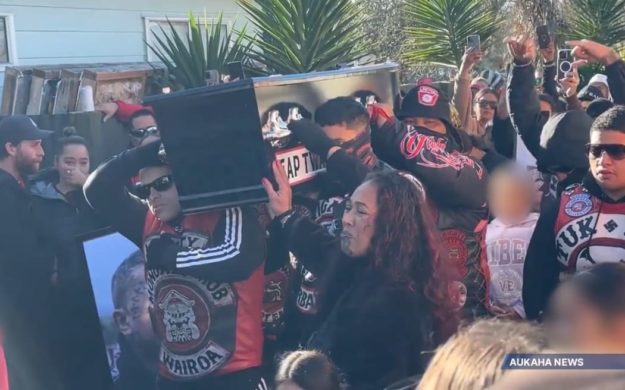 Picture from here
This could not have happened at a worse time for New Zealand's crumbling Woke Labour government.
Jacinda Ardern destroyed the Kiwi Dream and then abandoned her country leaving her political comrades to bear the fallout of her incompetence, our angry nation reeling under heavy inflation and a violent crime wave.
True to her own megalomania she now gives zero fucks about what's happening in her wake. She's 'reluctantly' accepted a Damehood, and is moving on to far more important things.
It has been the fate of Chris Hipkins to inherit her legacy and despite trying to back peddle on many of Ardern's unpopular Woke policies, Labour is looking at defeat to a National and Act Party coalition.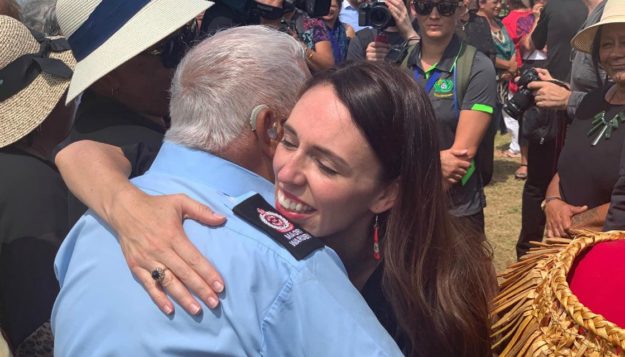 Limp wristed Policing under woke Ardern is being blamed for a huge spike in violent crime, armed robberies, and Ram raids, etc. The NZ Police having been Rainbow-ised woke-a-fied and told not to pursue criminals, but allow them to get away… for fear they might crash. The Labour Government's 'Dis-information project' leading the narrative that White supremacy, and far right ideology are the greatest dangers running rampant in New Zealand communities. ( Not Crime, Not Gangs, Not Maori radicalism, Not Green Extremism) Our Radical Leftist government and their extremist auxiliaries in the Green Party and the Maori Party are retraining the NZ Police to think ordinary New Zealanders who seek to retain their traditional rights and values are New Zealand's greatest criminal elements!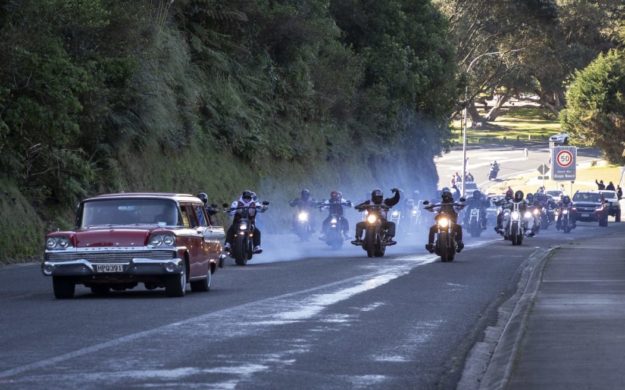 Picture from here
What is now happening in Opotiki demonstrates all this and so much more.
Chris Hipkins and the Police have characteristically bumbled this situation.
As soon as news of this murder reached Police HQ, Bus loads of Police should have been dispatched quick smart to Opotiki, and The Police should have been in strong enough numbers to maintain Law and Order.
That Opotiki would soon swarm with Gang members was as predictable as night follows day!
The Police ought to have been respectful of well behaved Mongrel Mob members visiting Opotiki, which they have every right to do, yet not allow them to 'take over control of the town' and disrupt ordinary folk safely going about their own business, And to make it clear who is in charge.
But this did not happen.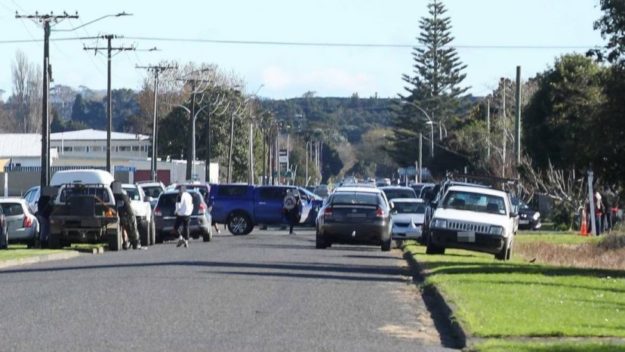 Leading opposition Party, National's Christopher Luxon has been election campaigning on Labours Law and order catastrophe said "
"Right now a town in New Zealand has been overtaken by a gang. Schools are closed. Public transport has been cancelled. And Chris Hipkins' response? It's not his job to deal with crime," Luxon tweeted on Tuesday.
"The people in Ōpōtiki are living in fear due to gang tension. They deserve better. They deserve leadership. National will get tough on crime and restore law and order."
The National Party leader said New Zealand can't afford three more years of a "soft-on-crime" Labour Government.
Read more Ōpōtiki Mongrel Mob Barbarians death: Christopher Luxon says town 'deserves better' after it's 'overtaken' by gang
Read: Ōpōtiki schools shut as gang tensions rise
According to Te Pati Maori (Maori Party) MP Rawiri Waititi both gangs involved in this murder are Te Whakatohea 'whanau', and incidentally Waititi himself belongs to this tribe, and therefore considers himself the only MP in parliament 'worthy' to discuss these matters.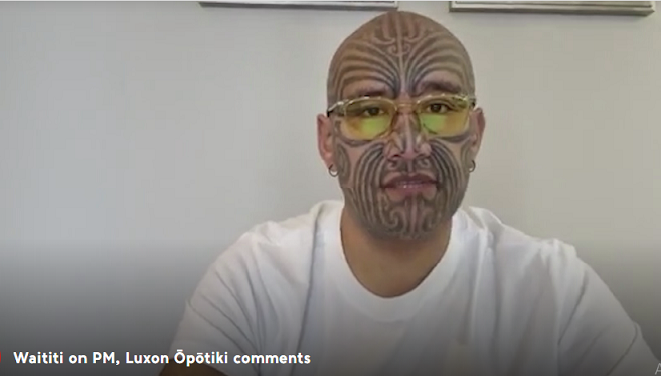 Read : Rawiri Waititi lashes out at Prime Minister, Christopher Luxon, media over commentary around death of gang leader
I, TWikiriwhi, first became aware of the unfolding chaos in Opotiki from a Twitter post that included a TV1 News report. A comment was made that the display of weakness on the part of the Police… just makes the Gangs bolder and stronger…
*This is an absolutely essential dynamic to appreciate* and demonstrates why Ardern's soft on crime approach has led to a break down in Law and order in New Zealand under her piss weak woke philosophy of 'kindness'.
The Law will only be respected by the Lawless, when it is backed up with sufficient force to ensure compliance.
Janis-like Ardern had no qualms about bringing in the Brute squad when Peaceful protesters were protesting against her tyrannical Covid 19 dictates and woke agenda!
The contrast is stark See here. Its obvious who the Labour government considers 'dangerous'… ie their Non-woke politically conservative critics who reject woke tyranny. No Hugs for them! They get the Jackboots!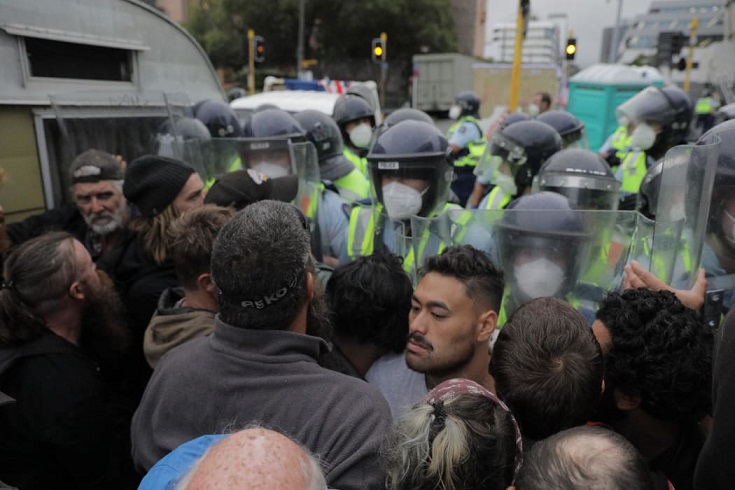 This is basic stuff, yet Woke ideologues in power today have abandoned the fundamentals in favour of their own political delusions.
Their duplicity ought to be obvious to all.
That Law and order must be upheld and enforced is as true today as it was way back in the 1800s, when New Zealand first took root as a British colony.
More on this soon…
This is when I decided to add my 5 cents worth to the public discourse.
I have a soft spot for Opotiki.
I like Opotiki, love that part of the Bay of Plenty and have spent many summer weekends down that way, and enjoy riding my own motorcycle through those parts.
I am also passionate about the study of New Zealand history in which some very significant events took place in Opotiki and surrounding regions in the mid 1860s.
Having laid down the preceding perspectives, my readers can understand the context in which I entered this discussion… with the following comment…
"If only Kiwis knew their history.
Trouble is not new to Opotiki. In the 1860s Maori Rebel 'gangs' the Hau hau murdered a peaceful Missionary there named Volkner. The Colonials gov sent Warships and fought many battles to bring the Murderers to justice. The Law must be upheld."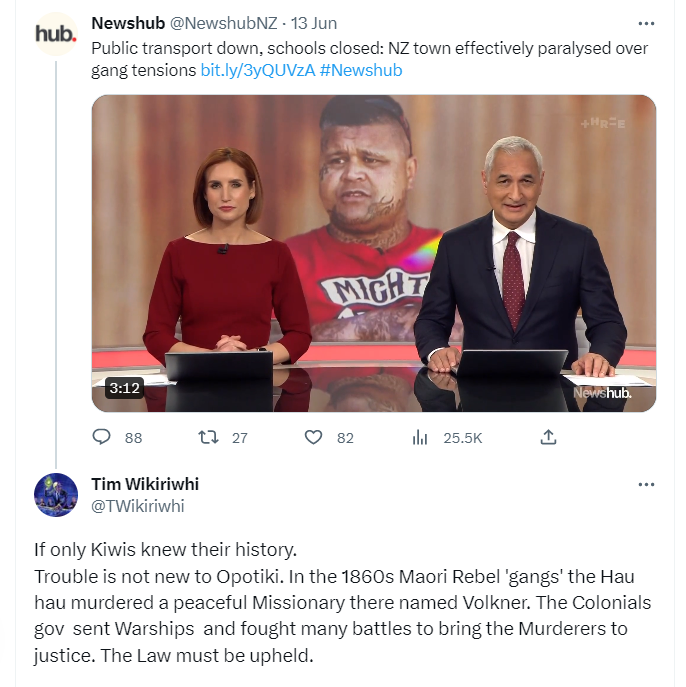 This comment solicited an interesting historical discussion about the events surrounding the Murder of Christian Missionary Carl Volkner which led onto claims of injustice on the part of the Colonial Gov in their response to Volker's horrendous murder upon the Te Whakatohea Iwi, Land confiscations, and supposed unjust trials and hangings.
The claim was "The people of Te Whakatohea were innocent…"
I will discuss this divergence of the topic in part 2 of my blog commentary.
Presently I'll stick with my original intent.
The main point of my Twitter comment was to contrast the resolve of the 1860s Colonial government to expedite Justice for Volkner, and put down lawlessness that was spreading about the Opotiki region back then, with our current governments dismal display of incompetence and weakness in Opotiki today with this gang murder, esp the breakdown in ordinary life for the citizens of Opotiki hiding in their homes in fear of Gang outlawry that threatens to escalate into more violence and possible revenge killings.
This ain't no Sunday picnic!
The Police had better get control of the situation before more people get shot!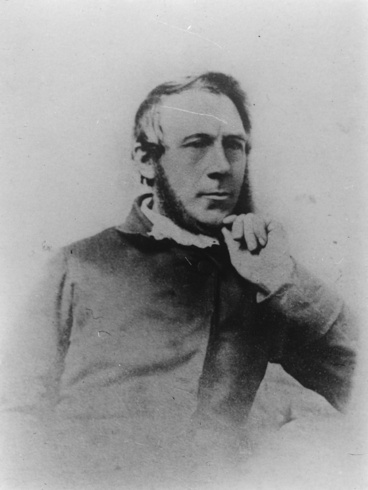 Christian Missionary Carl Volkner
***********
Read about him : NEW ZEALAND'S FIRST OFFICIAL DAY OF REMEMBRANCE OF THE WARS OF THE 1860S. THE HAUHAU REBELLION AND THE HEINOUS MURDER OF THE REVERAND C.S. VOLKNER.
***********
The response to Volkners murder by the Colonial government which included Pro-government contingents of 'Kaupapa' Maori needs to be understood in context of the period of Colonial history in which there were many challenges to the Sovereignty of Queen Victoria by Rebel tribes, at which time the success of the colony hung in the balance.
Even more than this it needs to be understood that The Colonial Government was only now…. 25 years after the signing of the Treaty beginning to properly enforce British Rule, Law and order over the entire country.
Prior to this the Government was not strong enough to police the whole country, to the effect that outside the centers of colonial activity (like Russel, Auckland and Wellington) there were large tracts of Land in which British law was not enforced and in which Tribal chiefs continued to be a law unto themselves just as they had prior to the treaty.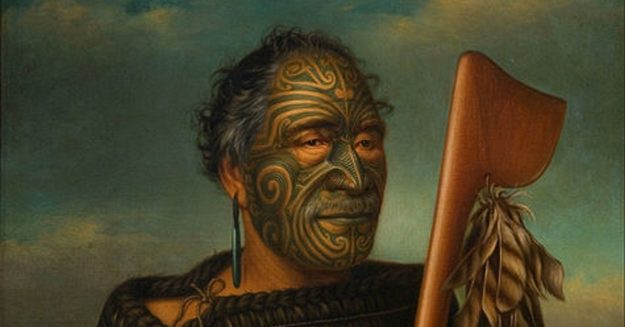 Waka NeNe.
Heke's rebellion in the North was swiftly put down and order restored with the help of Friendly Ngapuhi Chiefs such as the Famous Waka Nene, yet the reality is in the period between 1840 and 1860 Crimes/ violations of British Law were being committed by Rouge Maori who were not at all afraid to defy British Law as they had learned that the Colonial Government was weak… and would not visit Utu upon them should they slaughter Pakeha.
The most infamous example of this being Te Raupraha'a slaughter of 18 Pakeha in what is know as 'The Wairau Incident'.
In a display of Weakness Governor FitzRoy failed to bring anyone to justices for these cold calculated murders, signaling to these Warlike Chiefs that according to the rules of Utu… Pakeha were of no consequence, and could be murdered with impunity.
It was this show of weakness that would encourage ongoing acts of defiance, that would eventually lead to the wars of Rebellion in the 1860s.
Note: Gangs understand and operate on this principle of UTU. If a rival Gang takes out one of your guys, by the rule of Utu there must be pay back.
Weakness, and retreat on the part of government will breed greater contempt for the Law and be exploited to its fullest.
Yet In a modern Civil society UTU for Murder is delegated to the State Justice system. The State ought to recompense the guilty.
This breaks the Old-world cycle of UTU.
It is the Duty of the New Zealand Police and justice system to see to it the Killer(s) of New Zealand citizen Stephen Rota Taiatini are brought to Justice.
Though Taiatini was a Gang member. He is still a New Zealand citizen with full rights, and our government is duty bound to solve his murder.
It was the realisation that for the colony to succeed that this situation had to change, and that rebellious chiefs had to be made to understand that British sovereignty and Law would be upheld across the whole nation, and that there was no forest beyond reach of Government forces, to which they could escape, that signaled the end of Lawlessness in New Zealand.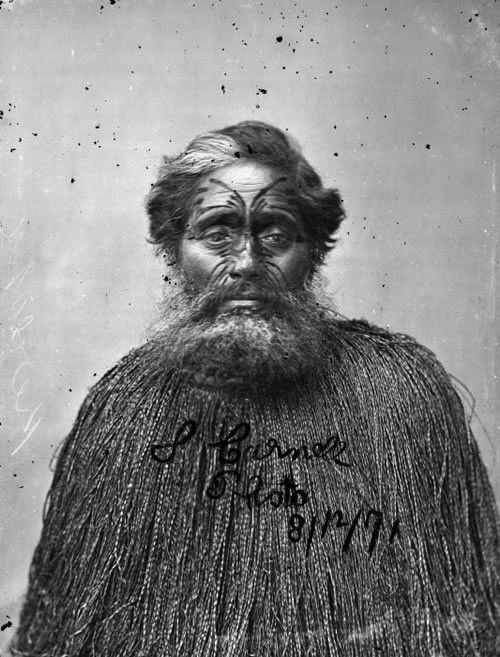 Cannibal Hau Hau 'Prophet' Kereopa Te Rau. Also known as… 'Kaiwhatu' The Eye Eater. The Murderer of Missionary Carl Volkner.
When these matters are understood the development of the Colony, and New Zealand as a Nation makes perfect sense, and these events can be understood as the birth pangs of shifting from a Land of Tribal anarchy to that of a unified peaceful and prosperous nation… from which Everyone has benefitted, including Maori.
Nobody but Criminals prosper when there is a break down in civil order.
In preparation for part 2 of this commentary, I want to finish here on a comment I made during the twitter discourse with a Wahine who was making a case that Te Whakatohea had suffered injustices.
"I've only one interest. The preservation of Truth. I'd be happy to dialogue with you about these events as long as you realise in the process I harbour no malice towards anyone in arguing the case for the contemporary historic records. It can be difficult to discuss such things"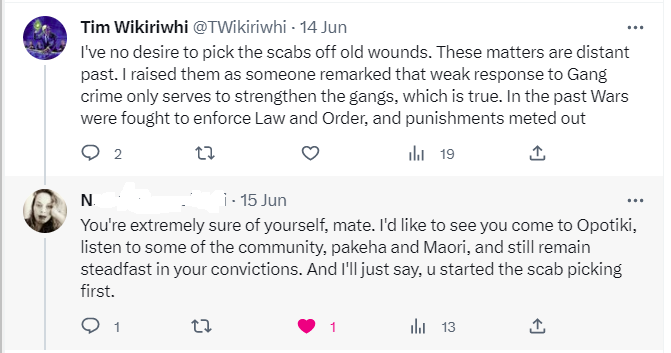 So it is that I will dig deeper into the claims she has made about what happened in the Bay of Plenty that was triggered by the Martyrdom of Carl Volkner, yet I must reiterate the motives of my heart in so doing. I harbour no evil intents towards Te Wharatohea. I wish for their prosperity and blessing.
Yet if we are to discuss the history of these events, and truth and understanding are the goals, then it will only be possible if the truth is spoken with forthright confidence without fear that it might cause offence.
No malice intended.
Because of the subject matter, and because of the heavy Politicization of Treaty claims, and other highly controversial aspects it is inevitable that some of the things I will say will not be pleasant to swallow.
This being so… It's highly likely that despite my honorable intentions, after I have posted the second part, any further conversation could descend into animosity and the taking of offence.
Will I suffer slander as to my character for daring to state things in a way that undermines much of what is being claimed today, by vested interests as to what really happened?
We shall see.
Perhaps the dialogue will remain relatively calm and learning will achieved on both sides.
That is my sincere hope.
I maintain an open ear.
Only evil prospers when lies prevail.
Sometimes it takes bravery to speak the truth.
I love Opotiki.
I harbour no ill will over the History of our Nation.
Yet today our Nation suffers Deep politically manufactured Racial divide.
Upon understanding the truth the future peace of our nation depends.
Tim Wikiriwhi.
Christian Libertarian.
More from Tim…
ARDERN GOVERNMENT WILL USE 'HISTORY CURRICULUM' TO INDOCTRINATE OUR CHILDREN WITH RACIST FALSEHOODS. TIM WIKIRIWHI'S SUBMISSION FOR ' AOTEAROA NEW ZEALAND'S HISTORIES IN THE NEW ZEALAND CURRICULUM '.
WAR IN THE WAIKATO. REBUTTAL OF THE O'MALLEY REPORT FOR HAMILTON CITY COUNCIL WITH REGARDS TO THE PROPOSAL TO CHANGE THE NAME OF OUR CITY TO KIRIKIRIROA.
WAITANGI DAY 2023: TRUE NEW ZEALAND HISTORY: CAPITAN GUSTAV VON TEMPSKY WAS A GREAT MAN OF HIGH CHARACTER… A HERO WHO GAVE HIS LIFE FOR OUR COUNTRY.
RAINBOW FLAGS AND TYRANT LIZARDS. BOGUS HISTORY AT THE AUCKLAND WAR MEMORIAL MUSEUM..
NEW ZEALANDERS MUST NOT COUNTENANCE THE EXTREMIST LANGUAGE OF KATE HANNAH'S 'DISINFORMATION PROJECT'. ABOLISH THEM NOW !