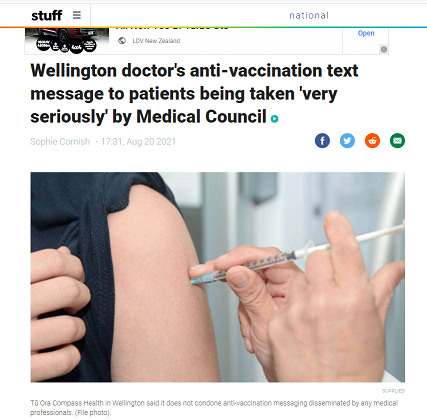 After considering the screen shot above… and what it means for Truth, free speech and opinion, please watch the video (Just below) which was posted to me by a Pro-vax friend challenging me to 'watch it if I dare.'
I will return to the above story of the screen shot in due course…
I can only assume my friend finds Bill Burr's reasoning compelling… as my friend find's my 'Ccnspiratorial mindset and hesitancy' to be irrational.
My friend also thinks Biden is the legitimately elected president of the USA!
That's just some context of the sort of media my friend imbibes and gives credence… the mainstream heavily politicized and narrow officially sanctioned views.
I am obviously an 'extremist"Nutjob' 'anti-science', etc etc all the names the conformers give to the non-conformers.
I run the risk of becoming a social outcast.
I watched the video….
I like Bill Burr.
He's a funny guy.
Ridicule is a legitimate means of attacking erroneous ideas and bad people, yet most thinking people realise you should not take your political cues from Comedians, Sports Personalities, etc without weighing up whether or not their opinions can withstand scrutiny.
Celebrity endorsements are of dubious value. Their opinions can be as valid, or as misguided as anyone else.
Bill chose to get the vax, and he even explains in a funny way why he discredits some of the 'Conspiracy theories'.
Bill thinks the Mega Wealthy and Elites need 'Sheeple' like him… unthinking morons to do their bidding.
This was weak… The Trans-humanist Tech Lords don't need him to dig their ditches… or most of the billions of now 'obsolescent' classes.
They want the world for themselves, and they only require a few hundered million… at best… to service their needs… the rest are just a gigantic pain in the arse… a threat to their power and ambitions.
And these people answer to no higher authority than their own desires.
Barr also said he knew people who died 'of the virus'… and he undoubtedly also knows many people who have been vaccinated who appear 'fine'.
That people he knows have died will have generated fear that would have played a big roll in his decision to get the shots, and undoubtedly stimulates many hesitant people to take the 'leap of faith' and get the vax even though it is an experimental tech the real results of which are presently unknown.
Just because people don't all drop dead immediately after the shot (though many do… the number being suppressed) is not evidence the vax is safe in the long term… though many people seem to use that metric.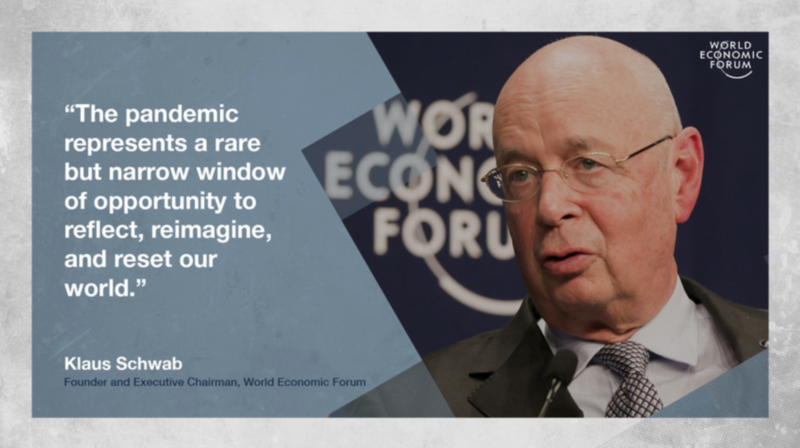 Yet even if the Frankenshots eventually turn out to be relatively safe, the most compelling 'Conspiracy' theories I know of have to do with a massive power grab… ending individual rights, and getting every person on earth registered onto a Global passport system to do 'The Great reset' and impose the NWO… a Technocracy… with a global Cashless economy and Social Credit systems… and that the Pandemic is merely the means by which this is to be achieved by spooking the sheeple into compliance and accepting the loss of rights…. and total control.
Now *that* is a fundamental theme in politics vs individual liberty… the price of which… is eternal vigilance… not fear driven compliance.
Let's get back to Burrs conclusion that the 'Depopulation Conspiracy' is not credible.
He shows no cognizance of the Massive Malthusian propaganda campaign regarding overpopulation depleting the Earths resources and destroying the planet… which is yet again another Fear driven hysteria designed to 'soften' up the sheeple into accepting the end of Freedom and capitalism, and embracing a New Totalitarian control of the worlds resources (By Noble benevolent Socialists)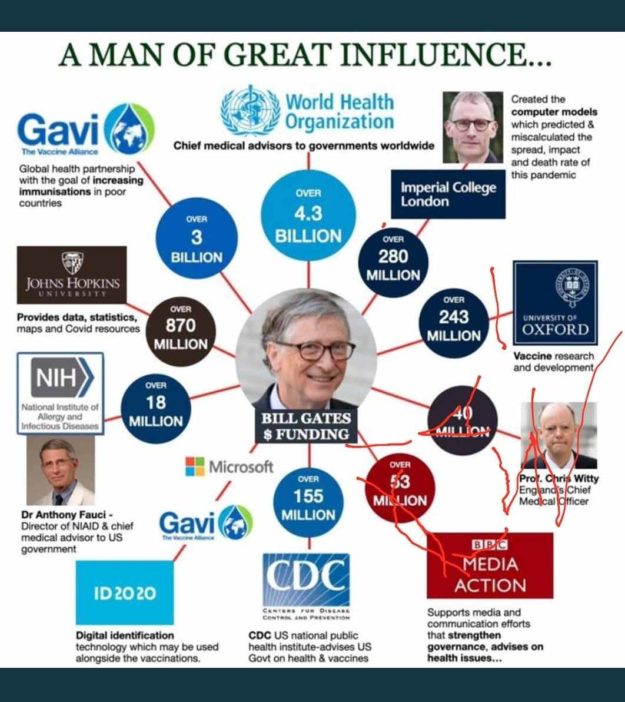 Bill Gates has talked about population control and 'sustainability'. He has positioned himself as the worlds foremost advocate for Global vaccination (and has boasted about the massive profits involved)… and has the World health organisation and Fauchi in his back pocket.
Governments of the world parrot what Gates, and Schwab dictate to them.
In light of these things is it really so irrational to draw from these premises that the NWO will have a strategy to curtail the worlds population?
And that beyond bringing the world under a centralised power, that the Vax could also be a means of Depopulation via Sterilisation?
Fear of Climate catastrophe has billions of Idiots who will praise such a scheme to Cull the human contagion that is destroying 'mother earth'.
Gates is at the forefront of this hysteria also… wanting to 'dim the Sun', etc.
Gates not a power mad Megalomaniac…. nooooooooooooooooooo.
Who would think such a thing?
He's not the sort of person who … 'Thanos-like' could possibly imagine wiping out billions of 'useless eaters' could be a messianic Act! noooooooooo.
You can Trust Good ole Bill!
He's a regular… down to earth kinda guy… who really cares about the little people… yes he does!
Bill Burr laughs…. Satan laughs… and spreads his wings.
Why do they insist Children get the vax?
Why do they expect people who have already had covid 19 to get the vax?
There is zero science in this… 100% politics.
Because this is a Globalist scheme to enslave all humanity.
They want everyone vaxxed so they get everyone onto the passport system.
There is growing evidence the vax attacks ovaries… True or not… the safety data is not in yet and it is outrageous to vaccinate Kids without this data.
In the mean time it is not 'irrational' to speculate that the vax might be harmful in the long term and that it is highly suspect therefore to demand the entire human race gets vaxxed!
It's in fact Prudent to be cautious!
And yet the powers that be are attacking voices that argue caution should be taken!
Is the reason they are pushing hard to get the children vaxxed ASAP is not not only to entrap them in the global passport system, but so that when eventually the evidence is established that the Vax harms human fertility… and this generation of kids has been steralised… it's too late to do anything about it… the job has already been done. And The Human population will take a massive hit.
All because the Morons were deceived via fearmongering and mass propaganda into throwing medical caution and established prudence out the window and thereby fell into the great trap that was set.
The Occult secret that the Elites hope the sheeple don't figure out is that they will have taken care to insure *their own kids* don't get sterilised… they are the chosen ones who are to 'inherit the earth'.
This is the Satanic 'Gospel of the NWO' whereby the Global Centrailised Socialist government in total control of every person and all resources will 'save humanity'.
This is antithetical to the Christian world view which is emphatic that Humanity *can't save themselves* from their own wickedness.
And the ultimate evil of a Global Human 'King of Kings'… The Beast… is not only prophesied in revelations and elsewhere but also fundamental to the story of Nimrod and the Tower of Babel.
By my reckoning the Rapture is imminent.
When it happens the Beast system will 'materialise'.
The missing Raptured souls will simply be said to have died of Covid.
This being so the saved ought to be sharing the Gospel of God's grace to the lost.
And we can expect persecution to grow.
The end is nigh.
My hope is in heaven, as I have no desire for my Children to live under a global Tyranny of the all seeing electronic Eye.
Special note to my critics..
And even if you don't believe any Conspiratorial thing I have said, and maintain 100% faith in the humanitarian goodness of all the Powers that be… and doubt that Greed and power have anything to do with what is going on… still my arguments hold firm on the basis of Human Liberty and rights.
On that basis alone all this tyranny can be legitimately rejected, and protested against… and feared.
Reason is not the order of the day… Censorship is! So it is 'Rich' for anyone who supports the Covid Tyranny to pretend that science, and reason, and common sense are the preserve of the Pro-Vax faction.
They are the most suspect bunch… the least reasonable… the most tyranical…. the most propagandized bunch of sheeple on Earth.
Everything I have said here I have the right to think, and to say, and to discuss with anyone else who freely wishes to listen to me.
I have the Right!
I was also tagged recently into a new article which gloated about an anti-Vax person died of the Rona.
This was supposed to be 'evidence' of the folly of rejecting the vax, lockdowns, etc.
It is as if those who take the vax think that those of us who make the choice not to get vaxxed are all idiots who think there is no risk in our decision.
Most of us appreciate there is a real risk involved and that it possible could cost us our lives.
We also know that probability is extremely small.
Still as NZ is in full lockdown right now, We ourselves are not impervious to the heightened sense of danger that a lockdown brings with it… the public fear that this 'Delta variant' might break out of containment and run rampant.
This alone will no doubt sway many 'hesitant' people into getting the shot… whereas I will stand firm and take my chances… because *Freedom*…. because I don't think it is the principled thing to *get an experimental genetic modification experimental shot* simply in blind faith of the Government and big Pharma… out of fear.
I think that is a fools and cowardly thing to do.
I want to maintain the Rights and liberties of a free society for my Kids sake.
Death may be the wages of my decision… I can live with that… and die in good conscience… Free.
Now back to the screenshot I put at the top of this post and appreciate Bill Burr lives in a bubble in which the powers that be control what information he has imbibed in the mainstream media…
It is highly probable Bill Burr is like the majority of pro-vaxers and is like my friend who challenged me to watch Burr's interview 'if I dare'… and yet this position is not 'the scientific position' or even 'the informed position'… it is the heavily conditioned message… and position… that has been artificially created to corral the sheeple.
Read: Wellington doctor's anti-vaccination text message to patients being taken 'very seriously' by Medical Council
I call for an end to censorship of Covid 19 discussion, esp of medical experts who suffer persecution should they dare voice concerns about the vAxx,,, such as… Wellington Dr Matthew Shelton.
Only one opinion allowed. Good on this guy… takes Balls to stand up for your own conscience in such oppressive times. He is 100% right to be concerned about children and Pregnant woman getting the vax… in other times this was the normal precaution… yet they will try and make an example out of him so that other Doctors keep their mouths shut.
The Vax program is not about science, not about best medical practice… it's about compliance to what the 'Powers that be' want.
Resist and they will try and break you…. then you wonder why there are so many sheeple who all think like zombies that the Vax is 'safe' and 'based on science', and that all 'Real Doctors and medical experts' endorse the Vax program…
The world is full of Zombies who dwell in cognitive dissonance that they are 'Fully informed' and that anyone who 'resists' is a fool and spreader of 'mis-information'… and deserves to be censored and punished. So they are all in on the Mass-propaganda/ programing of Useful Idiots.
It is this sort of persecutive behavior by the powers that be against dissenting opinions that generates mistrust and 'Vaccine hesitancy' in people like myself because I clearly see the anti-freedom manipulation that is going on.
This abuse is happening in key issues because we have people in power whose ambitions are not constrained by the principles and limits on power and authority that are fundamental to a Free society.
They do not respect freedom. They do not like having to deal with counter-argument. And the certainly do not like having to accept that free people might choose to reject their advice or schemes… which the powers that be claim are for 'the public good'.
So many morons buy into that scam… believing that those free people who chose to reject the governments scheme… 'are behaving foolishly, selfishly, and pose a danger to 'all the good, selfless, and compliant sheeple who have placed their trust in the government.
This is the environment of coercion.
Censorship.
Draconian Law… where it is very possible to get 51% support for Tyranny.
Tim Wikiriwhi
More from Tim….
IT'S ALL ABOUT *THE SPIKE*. COVID 19 IS A BIOWEAPON RELEASED UPON HUMANITY FOR THE SAKE OF GLOBAL POWER.
THE TRUTH IS IN RETREAT. THE GLOBAL KINGDOM OF THE ANTICHRIST IS AT HAND . IS THE AGE OF GRACE COMING TO A CLOSE?
BILL GATES WARNED US OF A COVID-19-LIKE PANDEMIC — WATCH HIS TED TALK FROM 2015
DR. MIKE YEADON – FORMER PFIZER VP SPEAKS OUT ON DANGERS OF MRNA VACCINES & COVID ILLUSION
THE YEAR OF COVID 19 LOCKDOWNS AND LOSS OF FREEDOMS. IT HAS ALWAYS BEEN ABOUT THE VACCINE PASSPORTS. THEY HAVE HAD THIS PLAN FOR YEARS. CHRIS SKY. MUST WATCH VIDEO.
THE STORY OF COVID 19 IN NEW ZEALAND, BY TIM WIKIRIWHI 2021.
NEW ZEALAND LAWYER SUE GREY DOING SOME GOOD WORK WITH RESPECT TO NZ GOVERNMENT COVID 19 RESPONSE AND 'VACCINE' ROLL OUT.
MY SUBMISSION ON THE INQUIRY INTO THE GOVERNMENT'S RESPONSE TO COVID 19.
JACINDA ARDERN IS MORE DANGEROUS THAN COVID-19: CENSORSHIP AND CONTROL OF THE PRESS.
"UNITE AGAINST COVID-19 NEW ZEALAND" . THE SUBTILITY OF THE SERPENT THAT BEGUILES.