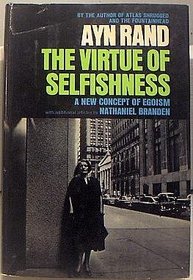 Ayn Rand's 'The Virtue of selfishness'.
It is my opinion that while she is correct about the Ideals of Capitalism and Freedom, Ayn Rand's philosophy 'Objectivism' takes individualism to perverse extremes and in so doing has committed great disservice to the Libertarian cause.
She was a Megalomaniac says the late Nathaniel Branden, and by my reckoning… a Narcissist… and her cult attracts a high percentage of Disciples with similar Sociopathic tendencies.
Unfortunately The reputation of Objectivism has become entangled with that of the Libertarian movement.
Having usurped a position of authority in the Libertarian movement Objectivist teachings and character have caused the Libertarian movement to stink… All the High Ideals of Libertarianism have been sullied because of the delusion that Libertarians are selfish and dont give a toss about the poor, and as long as this is how the Voting Public veiws Libertarianism… There will never be a Libertarian Government elected into office.
Objectivists tend to drive out other types of Libertarians as it takes a very thick skin to bear their Obsessive derision of Religion and glorification of egotistical arrogance.
The accusation that 'Libertarians are selfish bastards who dont give a shit about the poor' is a characteristic easily assumed by Socialists and others who have the unpleasant misfortune of talking with an arrogant Randiod Egoist.
Though it is a terrible accusation… this sort of Critisism is often received by an Objectivist as a badge of Honour to be worn with pride! They think concern for others is a vice.
They assume they are imitating their Glorious master who teaches them to be absolutely impervious to the opinions of others.
Central to her Philosophy is also Militant Atheism…'Religion is the root of all evil' type mentality that is not only overt, but also needs to be appreciated to understand that her Individualism is underpinned (and distorted) because of her Atheism.
Ironically I was prompted to write this blogpost critisising Rands contention that 'selfishness is a virtue' after having a Facebook conversation with an Objectivist who shares few (if any) of these common Objectivist traits, and is prepared to Diverge from Rand's Rabid Anti-theism… Australia's Colourful champion of Liberty… Prodos Marinakis.
From his comment below you can see for yourself he is willing to be honest and critical about the Objectivist movement.
He's a very likable Guy.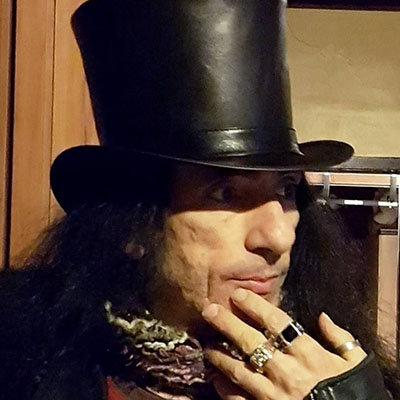 Prodos Facebook
As Facebook friends I saw one of his posts on 'The political Compass' which is a better 'graph' on which to plot peoples Political persuasions rather than the ridiculously simplistic Far Left to Far Right Linear graph that is adored by the Mainstream who only seek to maintain the two party system.
These 'Left and Right' parties dont like the 'political compass' because it outs them as anti-freedom Authoritarians.
Having answered a questionnaire to ascertain his political leanings… the result was plotted on the compass. Below is Prodos result…. and I'll let our conversation carry on from here… yet for the record I myself am a Bible believing Christian and an Independent Libertarian activist.
*****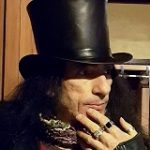 …Prodos Marinakis
Political Compass Test — just for fun.
Mine is below. Similar score to Milton Friedman.
More "conservative" than "libertarian".
https://www.politicalcompass.org/test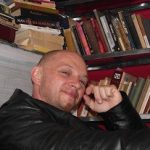 Tim Wikiriwhi:
I'm not surprised by your result Prodos given how highly you regard Rand.
I think she distorts peoples views about the virtue of Charity and the vise of selfishness, whereas I highly Regard Jesus Christ and St Paul… and it will be no surprise to you that I usually register as a left leaning Libertarian.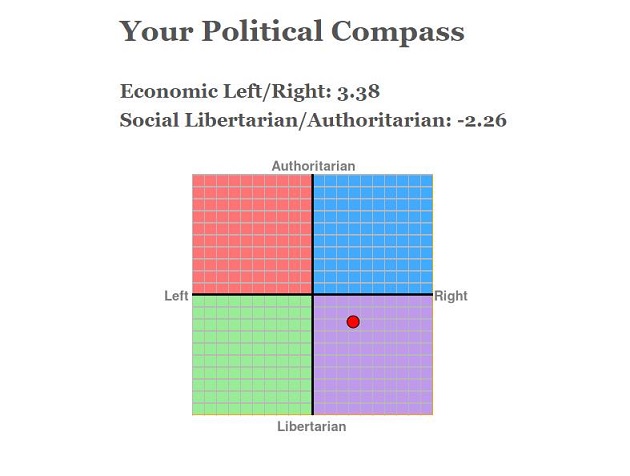 And yet now having completed this test (above) I too have come out a Right leaning Libertarian … making a mockery of my earlier comment… 🙂
In fact We virtually got the same coordinates…[ Both Libertarians rather than Authoritarians …I was slightly to the left of Prodos… yet still on the right side of the spectrum]
Like me you were probably uncomfortable with the Direction of some of the questions and were forced to make some choices without the opportunity to explain your reasoning…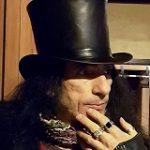 Prodos Marinakis:
Tim, thanks for sharing your Political Compass results & for your comments — both before and after doing the "Political Compass" test.
I'm very glad to see that we got such similar results. You are more surprised by that than I am, since I believe I understand you, better than you understand me.
You wrote, regarding Ayn Rand:
"I think she distorts peoples views about the virtue of Charity and the (vice) of selfishness …"
Well, to talk about Ayn Rand (or Jesus) and not get bogged down, it helps to have specific quotes and to also put them into the proper context. True?
Personally, I consider Charity to be a virtue — provided it's not tainted by the Kantian notion of altruism (which, despite the modern Church's reliance on this evil concept, is in fact a post-Christian and anti-Christian invention of Auguste Comte from the 1830's).
As for "selfishness" as a motive … that term, in Ethics, usually refers to a bad motive.
Calling someone "selfish" usually means that they're benefiting themselves — even when it's at the expense of others. And they're benefiting themselves in a way that's indifferent to other people.
Yet, there is nothing in Ayn Rand's fiction or non-fiction that advocates or esteems THAT kind of "selfishness".
On the contrary, being "selfish" in the Ayn Rand sense — as she explained in The Virtue of Selfishness and encapsulated in her saying: "There are no conflicts of interests among rational men".
Not to mention the whole model of Free Market Capitalism.
It is true, however, that Objectivism tends to underrate the value and virtue of Charity.
When a writer uses a word (or an expression) it's important to understand what THE WRITER meant by that word (or expression).
When Jesus says "Render to Caesar the things that are Caesar's, and to God the things that are God's" … we need to study what Jesus meant.
For instance he didn't mean (as one of my colleagues recently argued) that Jesus is a supporter of taxation and "Big Government".
(better leave it there for now as I have to cook dinner!)
🙂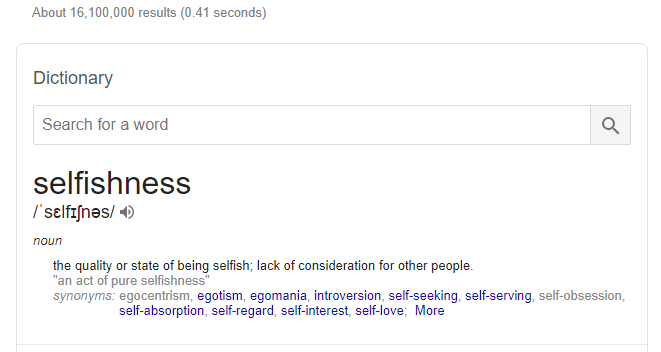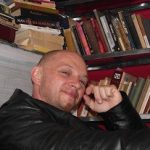 Tim Wikiriwhi:
Prodos, I think you have a better grasp than the average Objecitivist because you differ from the average in two aspects.
1. You dont have an innate hatred of religion and so you dont 'need' to 'prove' it is 'Evil'… and that gives you a far more objective view when discussing such matters, and (2) this is a corollary (or complimentary) of the fact that you are not afraid to diverge from the Orthodox dogma of the Cult.
Now One of the reasons I accuse Rand of Sophistry is because she trains her disciples to Bastardise the English language by arrogantly abandoning accepted meaning of terms… Re-defining words to mean something other than what they have been historically understood to mean and then proceeds to pretend she can prove the whole world was wrong … *and that she is some sort of Mega-genius* when in fact she is a fraud who has literally re-written the rules.
…often giving terms the very opposite meaning… and most importantly… she has 'Pre-loaded' the new meanings so that they will now appear to mathematically add up to the conclusion she wants to achieve… eg 'that selfishness is now 'a virtue'…. Objectivists dont even speak the same language… they are disconnected from the historical dialogue and dont even realise they have been swindled… mainly because they share Rands hatred of Christianity and are consumed by their own Egos… and think they too are super geniuses… 'John Galts' far above the average savage…. This is not the mentality of 'Objectivity'… but a type of psychosis that blinds the mind of those who are not aware of what game she is playing.
Now though I know what her nefarious motives were… to discredit Charity… esp religious charity … therefore casting a devious lie to destroy faith in the goodness of Christ and the Christian faith… I can entertain her 'Revisions' and understand her silly definitions of 'Rational selfishness' vs 'Irrational selfishness' …(obviously by her reckoning the historical meaning of selfishness *was this irrational selfishness* and nothing more… not independence… not self-reliance… not self responsibility… and certainly not slavery to the collective!), yet her distortions of Egoism and selfishness, and twisted ideas about altruism as a form of slavery rather than voluntary Individual virtue of charity have contorted the average Objectivists views on Capitalism and Voluntary community Action.
Objectivists are always praising Blatant *Greed*… Rand has crippled their minds so that they are incapable of forming moral arguments that condemn Largess by CEOs at the expense of the well being of the average worker … because the average Objectivist cant understand that simply because a person may have the liberty to act a certain way… that this does not of necessity make it Just, or wise, or of Good character.
Likewise Objectivists tend excuse themselves from supporting worthy voluntary associations and community activities under the pretense that to 'feel obliged' to contribute is some sort of 'psychological slavery'…. yet if any free society is to function it will rely Heavily on exactly these sorts of virtues and voluntarily self imposed moral duty's.
These are my thoughts on why I suggested that On the Libertarian spectrum I would expect myself to be to the Left of you (Prodos), though I appreciate you are not 'the average Objectivist'…. yet still your thinking will be 'coloured' to some degree by Rands Bents.
I have seen many of your posts that I have enjoyed very much in particular many that could not have been written by the'average Objectivist' because they are Antireligious-lite… even commending… and that is not a common trait in the Cult."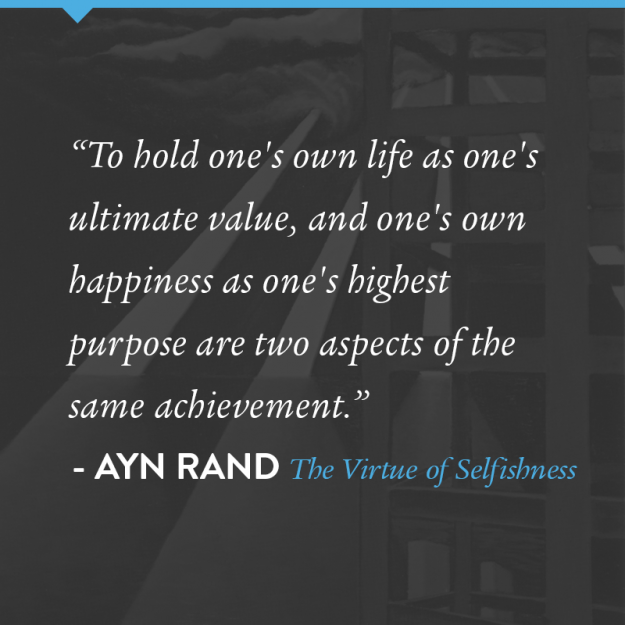 ******
That is where I'll finish this dialogue with Prodos.
I think think he is is a very interesting, and intelligent Man… a Champion of Liberty… a Man of Reason… who in my opinion avoids sycophantic Rand worship.
Someone a Christian can have a meaningful discussion with… free of petty conceit.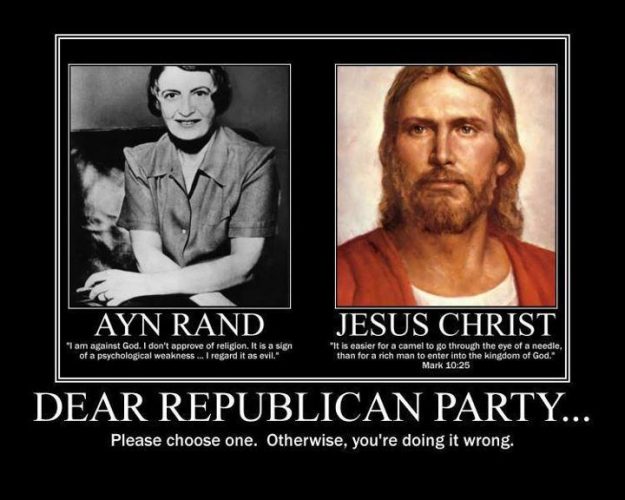 Despite the fact that Long Blog posts are unpopular, I do need to make one further clarification, and that is to say that though Christianity regards Charity as one of the highest virtues, and that People tend to associate this as a mentality common among left leaning political supporters, that it is a grievous error to automatically assume this means Christians ought to be socialists!
The notion that Christ was a socialist has been around for a long time, yet was systematically propagated and grew predominant among Western Christians in the 20th century when Communists infiltrated the churches and began to systematically sway Christians into supporting socialism… despite their Nations Prosperity,Freedom and capitalism being founded upon Christian protestant political reforms and values of Individual Rights, Private property, Hard work, Thrift, Voluntary charity, Honest Free-trade, etc.
This is quite a complex conundrum to untangle, yet when properly understood the confusion and false teaching gives way to definite clarity and broad understanding.
The Key is to understand the dispensational scheme of the scriptures and how things fit in properly with the plan of God.
Reading the Bible there are verses in the Gospels, and early Acts that appear to the unlearned to support the idea that Jesus was anti-wealth and promoted 'Communism'… yet such an interpretation fails to take into account what Jesus was offering the Jews at the time, and that these instances… such as when he told the Rich young man to sell all his possessions and give the money to the poor… and follow him… are not representative of the future Kingdom Christ had come to establish but was a special time of transition … from the Kingdom of Mammon… into the Messianic Kingdom of God on Earth whereby these injunctions were tests of worthiness to enter his kingdom… repentance for rebellion and sin… and a willingness to forsake the gains achieved under Mammon.. wealth… power… social status… and to enter the kingdom 'Naked'… fully trusting that Christ would reward them when he had overthrown the Romans and established his rule in Jerusalem.
And here is the real Jam: Christs Kingdom will not be a Communist Utopia!
There will be private property!
The Lazy will not reap the harvests of the Virtuous and hard working, etc!
So the Important thing to appreciate about Christs Message to the Jews at that time and his injunctions to Sell their possessions, and have all things common, and to Turn the other cheek, and to endure persecution unto the end were not instructive of how his Kingdom would function… but tests of Faith and repentance… ie to be found worthy to enter his Kingdom The Jews had to have faith Plus works!
When this is understood the claim that Jesus promoted Socialism collapses… and is exposed as a wicked false doctrine used to deceive Christians for Evil political ends.
Sadly this False doctrine has been very successful with millions of Deceived Christians voting for Big Government Nanny State socialist Tyranny instead of for Liberty and self responsibility guided by personal ethics.
How Ironic that these Christians fail to see they are unwitting supporting Leviathan… enthroning the all powerful State as God… Mammon!
As this Blog post is already too long I will simply ad links to some of my other Blogposts that go into more detail about Christs Kingdom ministry to the Jews… and how that differs from the Christian Age of Grace that we live in today… which is a different dispensation, and has a different gospel..
Read: REDISCOVERING DISPENSATIONAL TRUTH…EXPOSING THE FRAUDS OF ORTHODOXY ONE FALLACY AT A TIME… PART 1. CHRIST'S GOSPEL.
The Ideals of Freedom and Individual rights was born of Protestantism!
Read: PROTESTANT CHRISTIANITY HAD A BABY… LIBERTARIANISM.
I will add a link here to show that true Christian Charity is vastly different from the Atheist pseudo-morality of Socialist Tyranny and the forced redistribution of Wealth via welfare…
Read… REAL VOLUNTARY PRIVATE CHARITY VS THE EVILS OF WELFARE AND POLITICAL FORCE RUFF DRAFT.
And finally below is a Link to a speech I delivered in 2006, at the Tenth anniversary of the now disbanded New Zealand Libertarian party… 'The Libertarianz' in which I tried to expound why I thought Rabid Objectivism needed to take a back seat to a more Humane and tolerant activism if the party was to have any hope of success at the polls… as can be seen from the date posted to the blog was in 2012… and I was still very angry about what had happened to the Libertarianz party… I was of the opinion that Objectivism was/ had suffocated the party.
I saw the party as becoming little more than a propaganda machine to further the Atheist Cult of Rand… I had already walked away from it by then.
Fanatical Objectivists have convinced themselves that by coining the phrase 'Egoism' that they can escape the the accusations of Egotism! another example of Rand's Sophistry are work!
Egoism… self worship…they say is the highest Individual character trait!
Read: THE FAILURE OF OBJECTIVIST LIBERTARIANISM.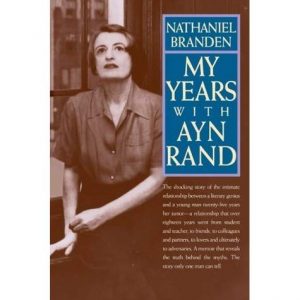 New Zealand still needs a Libertarian Political Choice… yet if this is ever to rise again lessons need to be learned from the Objectivist Dominated Libertarianz party.
If a New Libertarian party is to rise it cannot become a recruitment tool for the Cult of Objectivism… Rands Philosophy cannot be adopted as the last word on Party Policy… and certainly Objectivist Intolerance towards religious views or Charity… cannot be allowed to set the tone of Party Literature and conduct.
A far more Libertarian and enlightened Character and charter needs to be set and presented to the voting public…one in which Libertarianism is expounded that shows Liberty is far more compassionate and Humane than Socialism ever was… and when you Look a a guy like Prodos Marinakis and his moderated style of Objectivism compared to the Rabid Rand worshiping Egoist and Millitant Atheists… the contrast is stark.
Its the difference between an enlightened and Tolerant, and thinking Libertarian… from an indoctrinated Fanatical Zealot of a God hating Cult of selfish arseholes!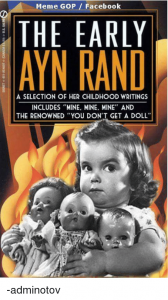 This Caricature of Rand and Objectivism may be an exaggeration yet it is not wholly Unjustified as anyone who has had anything to do with the Objectivist movement will tell you… and you can read about just how delusional Rand was in person by one of her closest and most dedicated disciples… Nathaniel Branden… Read "My Years with Ayn Rand".
When Judgement day comes for Any Rand she will be exposed as a fraud… In Reality she was not Great at all but a Delusional Woman full of the worst Character traits… and her toxic beliefs bring out the worst in those that are deceived by her.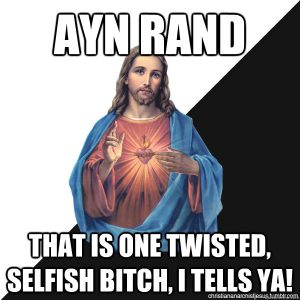 Fortunately there are some New Zealand Objectivists and Libertarians who share the same virtues as Prodos… those that are prepared to think for themselves more and quote Rand less.
Any New party would need to maintain a separation of the Church of Ayn Rand and State… as much as a separation of any other personal ideology.
This is where hope lies and could be the basis for Cooperation between Libertarians of all persuasions.
Getting things all in their correct context and this way Libertarianism will have a much broader appeal… including winning Christians and others out of Socialism and into supporting Freedom where they ought to be. This will only happen when Egoism, and Atheism, and Selfishness are not the defining traits of the Libertarian party… But Enlightened tolerance and adherence to just principles, equality before the Law, and a desire to downsize Government and abolish unjust tyrannical laws and taxes… "He who governs best… governs least". Thomas Jefferson.
Maybe sometime soon Kiwi Libertarians can have a Reunion… a few Beers… and talk about what could be… what should be in the near future.
Tim Wikiriwhi
Christian Libertarian.
P.S… Read… THE CHRISTIAN FELLOWSHIP IS A VOLUNTARY PRIVATE SOCIETY, NOT A THEOCRATIC POLITICAL MOVEMENT.
And… STANDING UP FOR JUSTICE MORE IMPORTANT THAN PERSONAL AMBITIONS
More from Tim…
MATERIALISM RENDERS MAN NOUGHT. MEANING-LESS, VALUE-LESS, RIGHT-LESS
WE ARE NOT ROBOTS AYN RAND. WE ARE MORAL AGENTS.
MONISM: EVOLUTIONARY PSYCHOLOGY AND THE DEATH OF MORALITY, REASON AND FREEWILL.